Biking Trails and Parks
May 1, 2019
ISWebmaster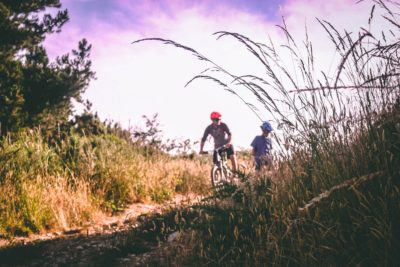 Bike riding is a great way to get outside, enjoy nature and be active. Brunswick Forest has some amazing biking trails. However, if you'd like to explore more of the region, there are plenty of great biking trails in the Leland and Wilmington areas to take advantage of. Rack your bike, grab your helmet and get ready for a day of exploring.
Only ten miles away from the Leland area lies Brunswick Nature Park. This park is a serene area filled with wonderful, undeveloped wilderness and natural wetlands. With both forest and water, Brunswick Nature Park is an ideal place to get some biking in. Our year-round mild climate allows for you to be comfortable while admiring the best views that nature has to offer. Located at 2601 River Road, you'll find yourself enjoying every inch of this 911-acre area.
Recently enhanced beyond its already spectacular beauty, Blue Clay Bike Park challenges you to its 8-mile off-road biking trail. The park is located just West of the Blue Clay Road and North College Road intersection and is suitable for all levels of cycling ability. This park is the most extensive of its type within New Hanover County with native vegetation lining both sides of the winding trails. Park hours are 8am to dusk, and the area comes complete with parking, shelter and restrooms.
Located at 1260 Westgate Drive is the Westgate Nature Park, maintained by the Leland Parks and Recreation Department. Fun can be had for everyone here, but cyclists will enjoy the third of a mile asphalt trail at this 3-acre park. Along the trail are a series of information cards that tell more about the local wildlife and vegetation in the area, so you can return from your biking adventures both wiser and healthier.
Finally, we have the Gary Shell Cross-City Trail. People don't call this trail "Cross City" for nothing. This whopping 15-mile trail will take you through Wade Park, Halyburton Park, Empie Park and all the way to the Intercoastal Waterway. From the forest to the water, this trail provides a multitude of environments to test your cycling abilities. While the trail is a beautiful way to connect to other recreational areas, it also serves as a step in the right direction for cleaner alternative transportation through Wilmington.
It's a beautiful world out there so, it's time for you to put your best foot forward and peddle to new adventures waiting nearby. Remember to stay safe, and live your best life possible, the Brunswick Forest way. For a list of more great parks and biking trails, visit https://www.wilmingtonnc.gov/departments/parks-recreation/parks/trails.
The Southern Off-Road Bicycle Association (SORBA) Cape Fear chapter is dedicated to maintaining current trails and building new trails in New Hanover and Brunswick counties.