BIKING AT BRUNSWICK FOREST
July 26, 2014
Brunswick Forest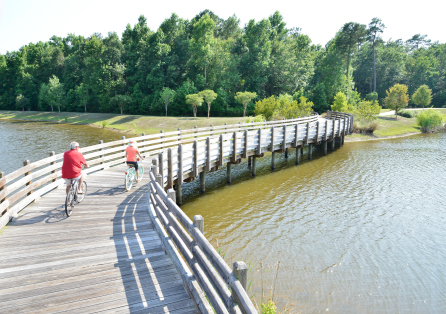 Biking is a great way to get in some exercise while experiencing the outdoors! It not only burns calories, but also helps strengthen your leg muscles and increase your coordination. At Brunswick Forest, biking is a popular way to stay in shape because we have a network of more than 100 miles of walking, biking and nature trails for you to explore.
When deciding on which type of bike is right for you, consider how you plan on using it.
MOUNTAIN BIKES
Mountain bikes are a great choice if you plan on doing a lot of biking on non-paved surfaces. They have more suspension than road bikes so they absorb the shock of bumps more easily.
TOURING OR ROAD BIKES
Road bikes are lightweight and require less energy to move them forward. They also have higher gears which allow the rider to go further with less pedaling. Thinner tires make for less road resistance and a smoother ride.
BEACH CRUISERS
A beach cruiser is perfect for the casual biker! These simple bikes are perfect for areas near the coast, like Brunswick Forest, where there are not a lot of steep hills.
If you are a Brunswick Forest resident and are thinking of taking up biking as a hobby, you can try out one of the beach cruisers at the Brunswick Forest Welcome Center! Just ask at the front desk to sign one of them out and take off on your own biking exploration of the community!
888.371.2434
www.BrunswickForest.com