New Hanover Regional expands beyond hospital into area communities
April 22, 2010
Brunswick Forest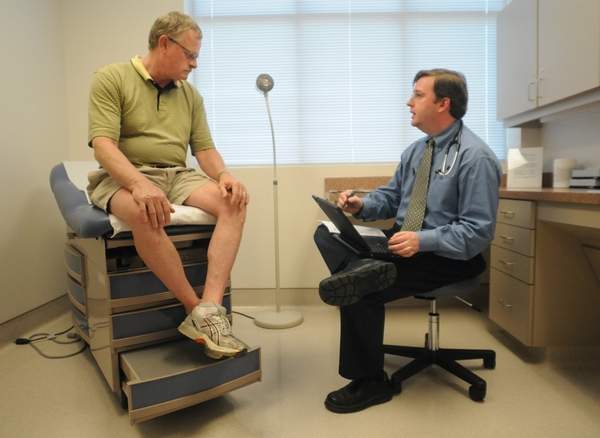 Photo By Matt Born
By Vicky Eckenrode

When New Hanover Regional Medical Center holds an open house Saturday for its new medical offices in front of Brunswick Forest, it won't be its first foray into the neighboring county, but it will be the Wilmington hospital's most noticeable extension there to date.
The move into a new building at Brunswick Forest's commercial village is part of the hospital's strategic plan developed several years ago to establish more outpatient services off its 17th Street main campus.
"The population is not all going to be centered in New Hanover County or right around downtown Wilmington," said John Gizdic, New Hanover Regional's vice president of strategic planning and business development. "As the region grows, we're taking those services out into the community and providing those additional access points really that patients want, and when they need that next level of care, then they can come down to the hospital."
The new medical building sits off the U.S. 17 entrance of Brunswick Forest, the Leland residential development where 611 families already have purchased property and long-term projections call for more than 8,000 households.
Near a bank, coffee shop, sheriff's substation, grocery store, drug store and retail space that are already opened or in the planning stages, the medical office was envisioned as another amenity for the residents in the fast-growing part of the county.
Brunswick Forest developers, who built and own the medical building, put out a request for proposals for a health care provider to occupy the building. New Hanover Regional beat out other offers and now leases the space at $20 per square foot, officials said.
New Hanover Regional has set up diagnostic services, including multi-slice CT scans, full-field digital mammography, ultrasounds, bone density scans and X-rays with imaging to be read by Delaney Radiologists.
Patients have been using the services at the new facility since late March, and lab services are slated to begin soon.
Just having the CT scanner on site already has helped a number of Brunswick County patients get a CT done the same day their doctor requests one instead of having to wait, said Leann Stoddard, site coordinator for the Health & Diagnostics facility.
In addition, doctors from New Hanover Regional's physicians group opened primary care and urology practices.
Through sublease agreements with New Hanover Regional, Atlantic Orthopedics and Wilmington Health Associates also will see patients in the building, providing primary and speciality care.
About 20,000 square feet of the planned 42,000-square-foot building has been built out, with room for more medical services, said Lannin Kerry, property manager for Brunswick Forest.
New Hanover Regional in recent years has partnered with the Wilmington-based practice New Hanover Radiation Oncology Center to open a cancer treatment office in Supply and with Dosher Memorial Hospital to open Dosher Medical Plaza in Oak Island.
But the Brunswick Forest location is the hospital's most significant presence in the county where competitor Novant Health is currently building a new hospital in Supply and has urgent care and affiliated physician offices dotted around the county.
But Brunswick County is not the only focus for New Hanover Regional as it implements its hub-and-spoke strategy.
The hospital established imaging services in Porters Neck and near Mayfaire Town Center on Military Cutoff Road, where New Hanover Regional also plans to open its first off-campus urgent care center May 1.
Gizdic said he foresees the hospital having a stronger future presence in Pender, Onslow and Duplin counties.
In a recent state-of-the-hospital address to county commissioners, New Hanover Regional CEO Jack Barto pointed to the expansion strategy as one way the hospital is responding to challenges facing the industry.
"Not everybody's going to come here," he said, speaking at the main hospital. "We have to get off this campus. We have to provide alternatives."
http://www.starnewsonline.com/article/20100422/ARTICLES/100429897/1017/news0102?Title=New-Hanover-Regional-expands-beyond-hospital-into-area-communities