Modern Farmhouse Design Comes Alive in Brunswick Forest
August 20, 2019
Katie McAlick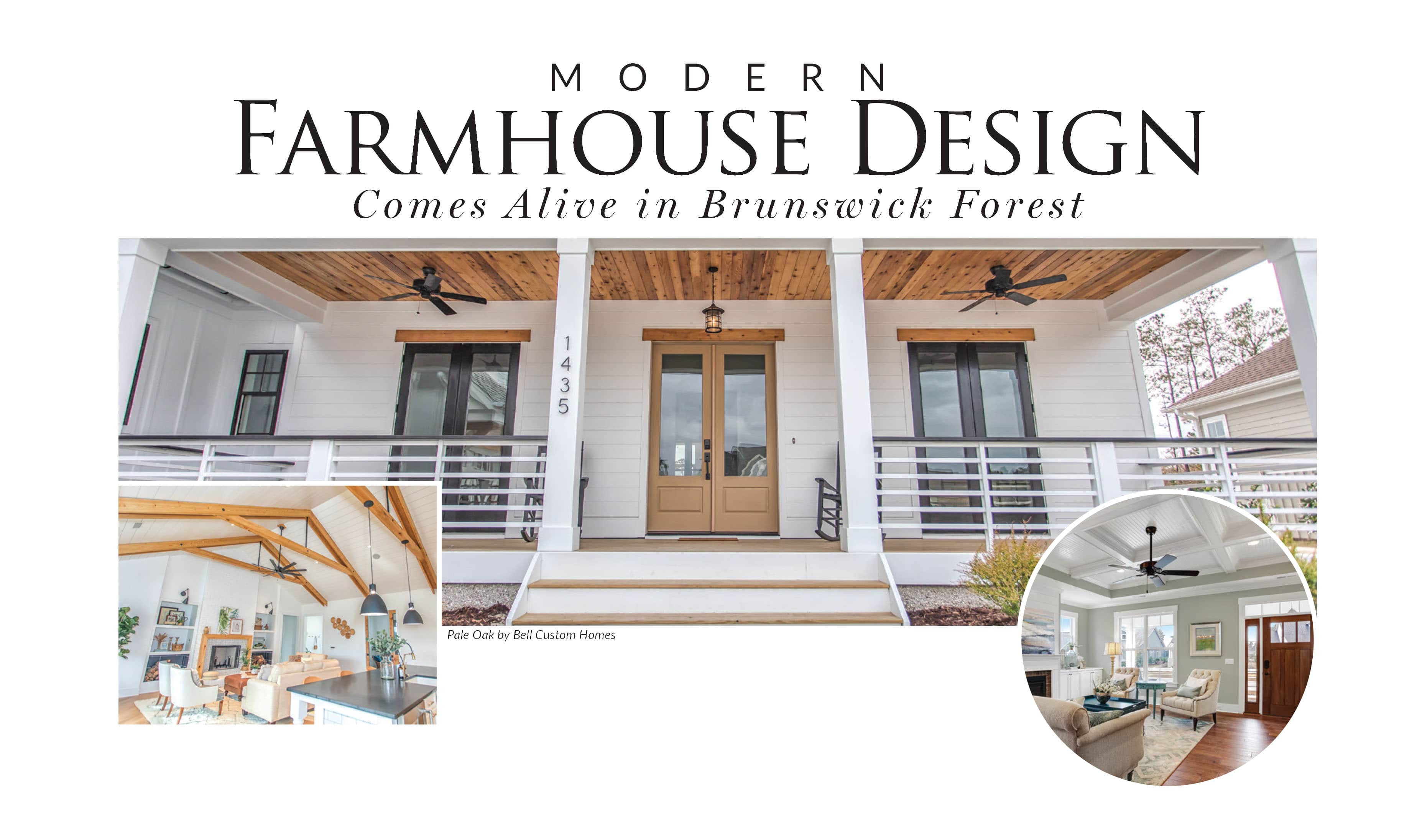 WILMINGTON STAR NEWS AUGUST 2019
A cohesive community made up of numerous architecturally themed neighborhoods, Brunswick Forest is known for its rich diversity of home choices in a wide range of styles, sizes and price points.
"Such variety creates interest," said Jerry Helms, Director of Sales for the award-winning, master-planned community. "While some neighborhoods are dedicated to a certain architectural style, we also have many areas where the customer can build whatever style they choose."
Helms said one of the most popular home designs in recent years is modern farmhouse, a style that has gained exposure through HGTV and other national outlets. Brunswick Forest has seen a surge in requests for the style, said Helms, calling it "a perfect fit for our coastal by nature lifestyle." Bell Custom Homes, PBC Design + Build, Logan Homes and Legacy Homes by Bill Clark are among the members of Brunswick Forest's esteemed builder team who offer farmhouse plans.
THE ELEMENTS OF THE STYLE
Oft en described as a mix of rustic and refined, modern farmhouse architecture blends a pastoral sensibility with eclectic sophistication. You'll find wood mixed with steel, streamlined shapes combined with soft, organic edges, and classic elements that complement contemporary fits and finishes.
"Modern farmhouse design allows for more freedom and diversity," said Cress Bell of Bell Custom Homes, a member of Brunswick Forest's esteemed Builder Team. "The aesthetic is not quite so precisely defined as in some other styles."
Bell Custom Homes has built a model home in the modern farmhouse style in Cape Fear National, one of the premier neighborhoods of Brunswick Forest. Called the Pale Oak, the home, which is open for public tours, features many of the style's signature elements, such as wooden decks, tongue and grove ceilings, open trusses, a monochromatic color scheme, and industrial fixtures.
"These homes are classic in nature, but with interiors that feature open concept and clean lines," said Bell. "It's a grab a cup of coffee and a good book kind of house. It's comfortable and casual, yet updated and sophisticated."
Bell said that at 2,850 square feet, the company's model home is within the 2,700 – 3,200 sweet spot for the style, although customization is always welcome and farmhouse design can be accomplished in a variety of sizes.
CHARACTERISTICS & CUSTOMIZATION
Maggie Pinson, a builder representative for PBC Design + Build, which has built several modern farmhouses in Brunswick Forest, echoed Bell's description.
"Historically simple, modern farmhouse architecture is above all relatable, evoking ease and comfort," she said. "While contemporary, it isn't stark and spare."
PBC, too, offers a modern farmhouse model in Cape Fear National. Known as The Sauthier II, the home overlooks the golf course's 13th green, and takes full advantage of the spectacular view.
"The home's signature two-over-two windows combine with transom windows and stretch across the front and rear of the home, bringing the outdoors in," said Pinson. "This is one of the goals of the modern farmhouse."
The Sauthier II also has the characteristic board and batten siding, front and back porches, and tongue and groove ceilings. The use of indigenous materials is a hallmark, as well, played out in the oyster tabby stucco foundation that gives a nod to our coastal region. Inside, the home has the openness of tall ceilings and beams, as well as signature wide plank flooring and modern fixtures. "It's easy to customize this design, taking the old and mixing it with new," said Pinson. "There are no wrong answers in mixing the elements."
ABUNDANT CHOICES, AMAZING AMENITIES
Helms commented that while the modern farmhouse trend is on full display in Brunswick Forest, people looking for their ideal home often want to tour a variety of styles before deciding. Helms pointed out that styles in Brunswick Forest range from low maintenance townhomes in the low $300s to coastal cottages in the $400s to custom golf course homes up to the $800s. Homesites are readily available, too, beginning in the $80s, so people can build their custom home now or later."
Finally, Helms pointed out that whichever style of home a buyer chooses in whichever neighborhood, all homeowners in Brunswick Forest have access to a truly remarkable lineup of award-winning amenities, including Cape Fear National® golf course, two fitness and wellness centers, three swimming pools, outstanding pickleball and tennis facilities, miles of walking and biking trails, a creek-side small boat launch and a vibrant town center that includes excellent dining, shopping and professional services, including advanced medical care.