It's Move-In Day at Brunswick Forest!
September 21, 2019
Katie McAlick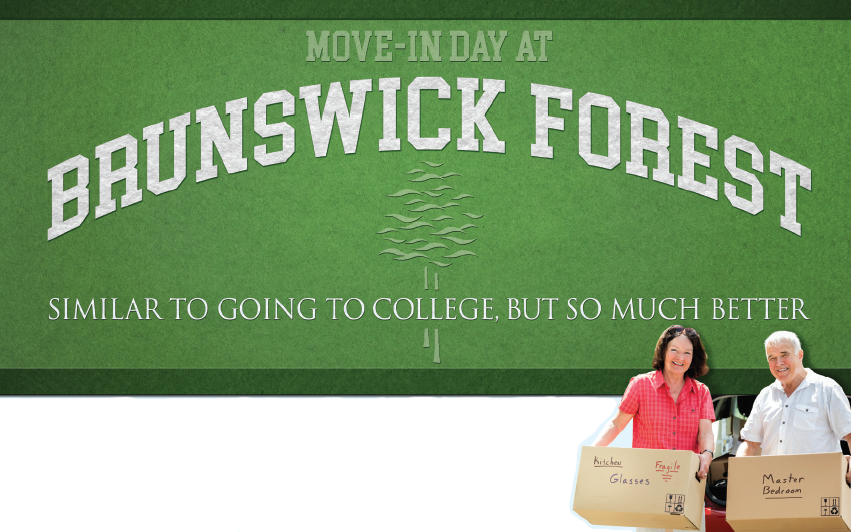 The milestone of going away to college can conjure up a lot of mixed emotions. The excitement of living in a new place,
for example, can be tempered by leaving family, friends and familiar surroundings.
"Facing a move in retirement is similar," said Jerry Helms, Director of Sales for the award-winning, master-planned community just over the bridge from downtown Wilmington. "People come here from other parts of the country
and embark on a whole new phase of life."
Helms likened the process of shopping for a retirement community to visiting several campuses and then choosing
where you want to be. "It's a big decision," he said. "You are looking for the right fit."
Bill and Renee Lawson are especially qualified to speak on the subject, because both are retired college professors who moved to Brunswick Forest.
"Freshman year is like moving to Brunswick Forest because you have new living spaces, new friends and new learning situations," they agreed. "We are having all of these experiences and we do NOT want to graduate!"
Helms said the Lawsons' comments are echoed many times over by the majority of residents.
"Life at Brunswick Forest brings about a remarkable increase in social opportunities," he said. "In college, people might join a fraternity or sorority, learn new hobbies, join clubs or do volunteer work to fill their free time. Here, they have all those opportunities, and more. I constantly hear them say if they had known how much fun and how fulfilling life at Brunswick Forest would be, they would have found a way to get here sooner."
To further the comparison, Helms said many retirees who move here continue their education by taking classes at the local community colleges or UNCW.
"Our residents tend to embrace all kinds of opportunities to keep their minds and bodies active, from the classroom to cultural experiences to learning new sports like pickleball." – Jerry Helms
Helms was quick to point out one of the biggest differences between college life and Brunswick Forest. "Their new home here is certainly much nicer than their dorm room probably was," he laughed.
The community offers a remarkable range of homes and home sites, from low-maintenance townhomes in the low $300s to coastal cottages in the $400s to custom golf course homes up to the $800s. Homesites are readily available, too, beginning in the $80s, so people can build their custom home now or later.
In addition, all homeowners in Brunswick Forest have access to the award-winning amenities, including Cape Fear National® golf course, two fitness and wellness centers, three swimming pools, outstanding pickleball and tennis facilities, miles of walking and biking trails, a creek-side small boat launch and a vibrant town center that includes dining, shopping and professional services, including advanced medical care.
Team spirit is another way the college mindset is alive and well at Brunswick Forest. In addition to bringing their loyalties to their college and professional sports teams with them, residents of various neighborhoods often band together in friendly competition against each other. You will find residents teaming up to compete in the annual Cardboard Boat Regatta, challenging each other on the golf course, or getting together for a picnic during an outdoor concert in the park.
Helms also said that any of the initial trepidation of leaving people behind is quickly alleviated because when family and friends come to visit, more often than not, they fall in love with the lifestyle and decide to buy a home and move here, too.
To learn more about the community, or to take a personalized tour among the dozens of model homes open daily, stop by the Welcome Center or call 910.239.3786 for an appointment.