Cape Fear National Golf Course opens to public
April 20, 2010
Brunswick Forest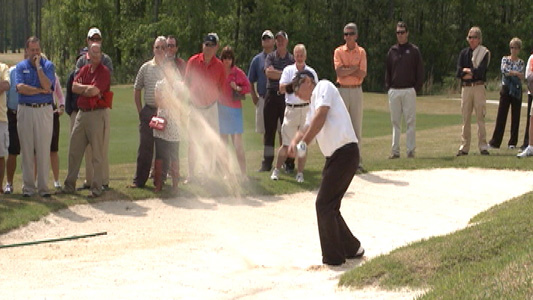 By: Jennifer Turk

LELAND, N.C. – Cape Fear National Golf Course officially opened its greens Monday morning, but also fills a niche in the area – affordable public golf courses.
Along with the other recreational activities, the sport of golf has taken a hit with the struggling economy.
"Golf in and of itself has been down for several years," said Alan Kerry, with Lord Baltimore Properties. "I know most projects that are only a thousand acres big wouldn't even put a golf course in."
Neither the design nor the sport is cheap, and many courses around the country have been affected by people cutting back. But opening the new course along coast shows the golfing community in this area is still going strong.
"Golf builds healthy communities. To have golf as an amenity and to beautify the land and use the land in an economical and ecological way is just really great for all of us," Bobby Clampett, former PGA Tour winner, said.
Cape Fear National is an 18-hole public course in the Brunswick Forest close to the Brunswick/New Hanover County line. As a public course, its fares range from $60 to $110 a round. Designers say there are plans to add another nine holes to the course.
http://www.twcnews.com/archives/nc/charlotte/2010/04/19/cape-fear-national-golf-course-opens-to-public-NC_624744.old.htmlc