Brunswick Forest's Model Homes Provide New Inspiration For The New Year
March 8, 2018
Beth Burgee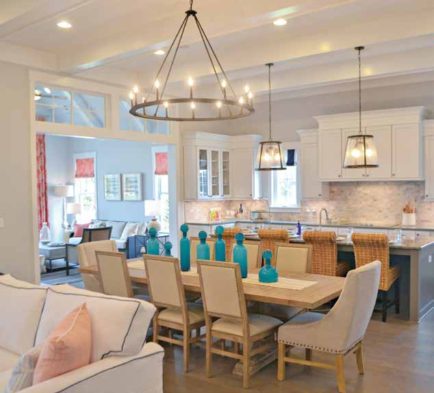 Wilmington Star News 1/25/18- It's only a couple of weeks into the new year and Brunswick Forest is already forecasting 2018 to be among its best ever. That's not surprising since each year seems to top the one before it. In 2017, Brunswick Forest welcomed a record setting 395 families into the community, a healthy increase over 2016 numbers, which were in turn up significantly from the year before. It's a well established trend that shows no sign of letting up. "Record sales have occurred nearly every year since we broke ground in 2007," said Jerry Helms, Director of Sales and Marketing for Brunswick Forest. "We just made two national industry lists of the 50 Top-Selling Master-Planned Communities in the U.S. for 2017: RCLCO and John Burns Real Estate Consulting," Helms explained the secret of their success. "We deliver an unmatched lifestyle that incorporates exactly what people are looking for in homes and amenities, so they want to be part of it," he said. "And our location, so close to Wilmington's vibrant downtown and area beaches, is another big draw."
WARM WELCOMES
Helms said while it's always a good time to tour Brunswick Forest, the first months of the year are especially popular. "People are energized to make changes in the new year," said Helms, "so touring model homes can provide inspiration and motivation to get out and about, even in the coldest months. Popping in and out of homes is an ideal indoor-outdoor activity." The opposite of a cookie-cutter community, Brunswick Forest offers a wide range of architectural styles and price points. "That variety is represented in our current model homes," said Helms. "We always have dozens of homes for people to tour because it offers buyers the chance to get a real feel for the homes and community."
VALUE AT EVERY PRICE POINT
Homes in Brunswick Forest can be found in three price categories. Parkway Crossing offers lovely cottage style homes that include access to all of Brunswick Forest's amenities, at prices beginning in the mid-$200s. Brunswick Forest Builder Team member, Tribute Homes, has built a model court in Parkway Crossing that showcases the excellent quality fit and finishes available in these homes that are considered a fantastic value. Additionally, two existing townhome communities—Tennyson Village and Park Landing Townhomes—fall into this price category, as will the upcoming Townhomes at Cypress Pointe.  At the next price level, the coastal, single-family homes in Park Landing begin in the mid-$300s,as do various sections in the popular Shelmore neighborhood. Architectural styles there include several coastal cottage communities, neo-traditional homes and West Indies-inspired designs. "Shelmore is built around Hammock Lake, one of the most picturesque settings in Brunswick Forest," said Helms. "Residents gather there for all kinds of recreation, as well as the swimming and fitness facilities that augment our main wellness center amenities."  The most upscale neighborhoods in Brunswick Forest are Cypress Pointe, Banyan Bay and Cape Fear National®, where home packages begin in the $400s and custom homes on the golf course may reach more than $800,000. Cypress Pointe celebrates traditional Southern architecture, while Banyan Bay is a gated enclave of Floridian-style homes designed for resort-like living, inside and out. Across the street is the entrance to Cape Fear National, whose homes have the most immediate access to the award-winning golf course of the same name and offer homes and homesites that front the course. "No question, Brunswick Forest is a community that offers a very desirable way of life," said Helms, "but we have found that isn't a one-size-fits-all proposition. We help people achieve that dream across a range of sizes, prices and styles of living."
SO, WHAT ELSE IS NEW?
Helms said the community's town center, The Villages at Brunswick Forest, will see a new building completed in 2018, with the opening of two neweateries: The Shuckin Shack and A.M. Diner. These two, and the already opened AA Storage, join the lineup of a major grocery store, national drug store, various restaurants, boutiques, service outlets and medical offices that provide exceptional convenience to Brunswick Forest residents. The Villages can be accessed through the community-wide system of walking and biking trails that won the Bliss Award for hiking from Real Estate Scorecard. Another addition to The Villages for 2018 is the indoor pickleball facility currently under construction, said Helms. Pickleball is one of the fastest-growing sports in the country, and Brunswick Forest has been singled out by Ideal-Living magazine as providing the "Best of the Best in Planned Communities" for pickleball and tennis, as well as for kayaking and model homes.  "Our residents enjoy being part of Brunswick Forest, as well as the greater community," said Helms. "Having players from all over the area compete in our facilities enhances the level of play and social interaction." Keeping with the new year's theme, the community's second fitness center opened in 2017, added Helms. "That's another place to make good on those resolutions," he quipped.