Brunswick Forest Transitioning to 2019 On Strong Note
November 29, 2018
Beth Burgee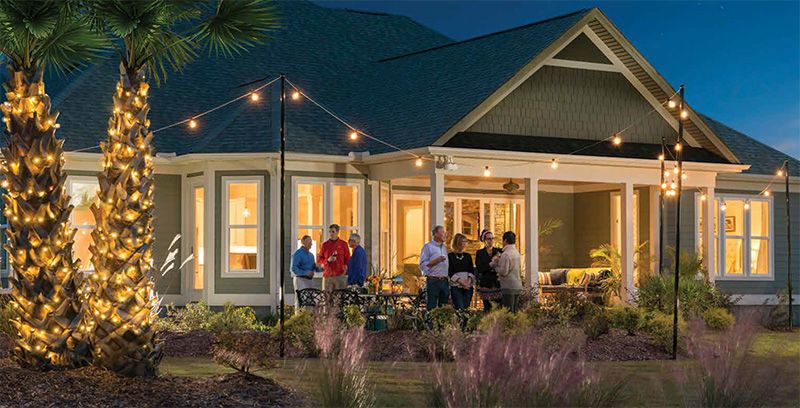 Wilmington Star News November 2018
Transitioning With Momentum
"Most signi­ficantly, we are on pace to welcome 300 new families in 2018," said Helms, VP of Sales for the award-winning, master-planned community located just over the bridge from downtown Wilmington.  It's the sixth year in a row that we have hit that mark, and it speaks to the consistent growth of the community. We are especially grati­fied to know that a large percentage of our new families came to us through referrals from current residents. Our residents love the lifestyle they've found here, and they want to share it with their friends and family members." Helms said 2018 was a big year for new property releases. Cape Fear National, the premier neighborhood surrounding the championship golf course of the same name, had new homes and home sites released earlier this year, as did the second phases of the popular neighborhood, Cypress Pointe. Just in the last few months, two new neighborhoods were launched:  The Lakes, which is a continuation of the West Indies aesthetic of the Leewards, and Park West, which is similar to Parkway Crossing in style and price point. The Towns at Cypress Pointe II and new releases in Tennyson Village are two town home communities that provide the highly desirable, low-maintenance option of living, without sacri­ficing style and quality.
Tours remain strong, too, said Helms, especially considering the loss of time in September due to Hurricane Florence. "While everyone in the region experienced some downtime, we didn't lose momentum at all," said Helms. "We had phenomenal turnouts for our October and November events, with more than 120 home tours and approximately 30 sales." Also in 2018, several new businesses opened and existing ones expanded in the community's town center: The Villages at Brunswick Forest. On the restaurant front, Shuckin' Shack Oyster Bar opened and the Joyce Irish Pub & Grill expanded. Brunswick Business & Development, Coastal Dance Academy, Hairology and True Homes Design Studio became new tenants, and EmergeOrtho has begun construction on a new building that will include the county's ­ first ambulatory surgery center, as well as consolidate its current medical service in the area. On an adjacent property, House of Pickleball opened in July as the nation's ­ first facility of all indoor pickleball courts with CushionMaster Premium Plus rubberized  flooring.
In With The New
Helms said the recent releases helped round out 2018, and will carry them into the ­ first quarter of 2019. Builders are busy constructing new homes across a range of architectural styles and price points, in both single-family homes and town homes, so there will be excellent new home inventory at the ­first of the year to meet ongoing demand. "In Brunswick Forest, we continue to see a demand for diversi­fied architectural styles and open concept living that allows for entertaining in the home," explained Helms. "Residents of Brunswick Forest tend to develop a large social network, and they want to hang out with their neighbors." Helms mentioned a growing trend toward entertaining several nights a week, with home buyers desiring an open kitchen that flows into indoor and outdoor living spaces. "It's a perk that, in southeastern North Carolina, people can entertain outdoors the vast majority of the year," he said.
Ongoing Involvement
Helms said resident involvement in the greater community has always been impressive and saw even more growth in 2018. "Brunswick Family Assistance is the flagship organization for northern Brunswick County," he said. "Residents have really gotten onboard to assist families this year, especially following Hurricane Florence, and there are many other ways that Brunswick Forest residents give back by donating their money, time and talents." Helms said that every December he enjoys the opportunity to reflect on everything that is going on at Brunswick Forest, from the developer's new offerings to the extremely active and generous residents. "It's amazing," he said, "and remarkably, it just keeps getting better."
Come See For Yourself
Homes in Brunswick Forest range from low-maintenance town homes to lovely coastal cottages to custom golf course homes, all from the $300s to the $800s. Premier home sites begin in the $80s. To learn more, or to take a personalized tour among the dozens of model homes open daily, stop by the Welcome Center, call 910.239.3786 for an appointment or visit BrunswickForest.com