Brunswick Forest Named in Top 50 Best Master-Planned Communities in U.S. by Where To Retire Magazine
June 28, 2011
Brunswick Forest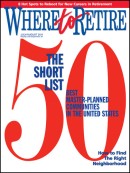 Where To Retire
Following is an excerpt of the article, "The Short List: 50 Best Master-planned Communities in the United States"
By Van Sheridan

Joan and Pete Papp have spent most of their lives working toward this day. They have found what many Americans are searching for – the ideal place to retire. Like other retirees we interviewed while preparing "The Short List: 50 Best Master-Planned Communities in the United States," the Papps weren't looking only for a beautiful home – they were seeking much more.
"We wanted to be on a permanent vacation, where we can play year-round," Joan says. "The kids were grown up and gone. It was time to think about us." Her words echoed others relocating to communities that offer amenities once associated mainly with resorts. The Papps, in their early 50s, found their retreat at Brunswick Forest, close to the North Carolina coast, where they can golf, kayak, hike and bike. "My husband is like a kid in the candy store. He loves living here," says Joan. Partly, Pete says, it's because the taxes are lower than where they lived in Connecticut, saving them thousands of dollars.
The things that fulfill retirement dreams vary from person to person. In our selection of 50 communities, great diversity can be found in places from California to Florida and Wyoming to Texas, yet they share a common thread voiced by retirees: a sense of community that fosters camaraderie. The close-knit environment allows residents to make new friends easily and keep their calendars full.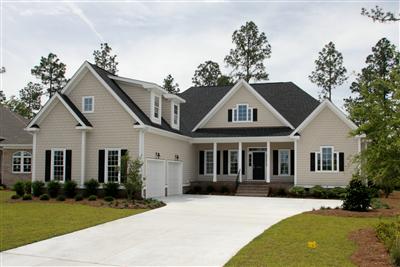 As retirees cited their reasons for moving to master-planned developments, we noticed commonalities among our picks. Some trends are new while others have grown into prominence since 2009, when we last published a selection of 100 communities. For our seventh biennial honor roll, this year we've narrowed the focus to 50, zeroing in on those that are amenity-rich, with clubhouses, recreation and activities to keep residents fully engaged. Here's a snapshot of our findings:
While golf and tennis long have been staples, other sports have garnered fans, notably bocce and pickleball.
Empty nesters and retirees are intent on staying in shape and physically active. Expansive fitness centers are a prime amenity. Once, a few treadmills and free weights fit the bill. But now savvy about working out, the 50-plus crowd demands top-notch exercise equipment, such as elliptical machines that are fully dressed with individual TVs and fans. Body-and-mind classes, including Pilates, tai chi and yoga, are commonplace – and Zumba, the new Latin-inspired dance routine, shows up frequently. Walking and biking trails are the norm.
The ballroom is seeing hot action on the dance floor.
Community gardens are flourishing, providing a place to cultivate new friendships while tending to patches of tomatoes and beans. Residents are tapping into the healthy eating trend along with getting exercise. As well, a number of communities now have teaching kitchens for demonstrations.
Our 2011 list showcases master-planned communities with 300 or more planned homes and a package of amenities, providing the activities many retirees want. We've given the range of base home prices, but they're subject to change.
Brunswick Forest
Leland, North Carolina
The lure: Miles of biking and walking trails cross woodlands, creeks and meadows, linking neighborhoods to the Brunswick Forest amenity area and adjoining retail complex with the New Hanover Regional Medical Center. The Community Commons, with gardens, is a gathering spot for events, while the nearby fitness and wellness facility has exercised classes, indoor and outdoor pools and tennis courts. The crown jewel is the 18-hole Cape Fear National course, challenging novice and seasoned golfers. At the River Club, residents can fish and launch canoes, kayaks or paddle-boats on shady Town Creek. Ten minutes away, downtown Wilmington adds historic sites, shops and restaurants, with beaches nearby. The community has a wide variety of home styles.
What residents say: Joan Papp, 50, had to convince her husband, Pete, 53, to leave the comfort of his native Connecticut. "He had a lot of hesitation moving here," Joan says. "It took me forever to convince him because I came down to look around – he didn't. But now when people ask him, 'When are you coming back?' he says, 'Never!'" Along with being able to golf and hike year-round, Pete is pleased about the taxes. He used to pay $8,000 in property taxes. Here, he pays $1,750.
Prices: Mid-$200,000s-$600,000s for town-homes, duplexes and single-family homes.
Status: 590 homes built of 7,500-8,000 planned on 4,500 acres.
Age-restricted: No.