Brunswick Forest duathlon benefits Step-up for Soldiers
May 18, 2010
Brunswick Forest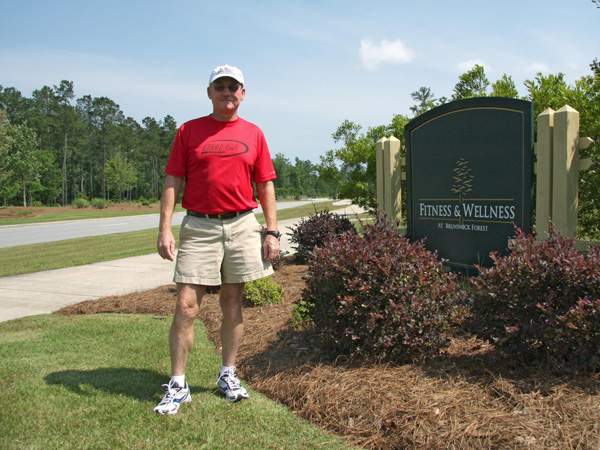 Photo and article by Brandon Sneed
StarNews Correspondent

Ed Fore has organized the first-ever Duathlon at Brunswick Forest, which will be raced on Sunday and will raise money for local nonprofit Step Up For Soldiers. The race will begin and end at Brunswick Forest's Fitness and Wellness Center on Sunday.
The Duathlon at Brunswick Forest on Sunday – one of few races of its kind in the greater Wilmington area in many years – will be about more than just people running and cycling.
Proceeds from the race will benefit the local volunteer charity organization Step Up For Soldiers, which was founded by Thomas Russell, a Wilmington resident and former New York City police officer who lost 37 friends in the 9/11 attacks.
The groundwork was laid in 2004 when he built ramps for a couple of disabled military veterans. Now, Step Up For Soldiers remodels entire homes for injured vets and goes to great lengths in helping them adjust to life with physical challenges wrought by war.
Ed Fore, the race organizer, is a military veteran himself.
"You hear, sadly, about 'there are five dead this week' or 'two dead last week' from over there," he said. "But you don't hear about the 400 injured and the 50 severely injured. That's who Step Up reaches."
The duathlon, sponsored by Atlantic Orthopedics, Bike Cycles and Fogleman & Associates Custom Builders, will consist of a 3.1-mile run followed by a 10.4-mile bike ride and a 2-mile run.
The race begins at 8 a.m. at the Brunswick Forest Fitness and Wellness Center. The 5K and2-mile legs are flat and fast and the bike course is a double loop with new, smooth pavement and no highway traffic.
"There are a lot of triathlons in town, but there are no duathlons – no races with no swim (event)," Fore said . "It's a multi-sport event for those who don't have access to a pool or don't swim or don't like to swim. I thought it would draw that type of athlete, and indeed that is what it has done."
"We're always looking for activities to bring to our residence," said Brandy Marshall, marketing coordinator for Brunswick Forest. "And from a fitness and wellness standpoint, it's really nice to be involved with this."
About 80 percent of the registered participants are from the Wilmington area, Fore said.
Race entry fees are $52 for individuals and $75 for two-person teams. Registration closes at 9 p.m. on Friday. Spectators are welcome free of charge.
All participants will also be entered in a drawing for various gifts, including a $75 gift certificate to Two Wheeler Dealer, a $100 gift certificate to New Balance of Wilmington, a free one-year individual membership to Gold's Gym, a $75 gift certificate to Omega Sports and gifts from the Wilmington Athletic Club.
For more information visit Brunswickforest.com or search "The Duathlon at Brunswick Forest" online or e-mail Fore at edfore7628@bellsouth.net.
http://www.starnewsonline.com/article/20100518/ARTICLES/100519596?Title=Brunswick-Forest-duathlon-benefits-Step-Up-for-Soldiers