ANOTHER RECORD YEAR FOR BRUNSWICK FOREST
December 11, 2017
Beth Burgee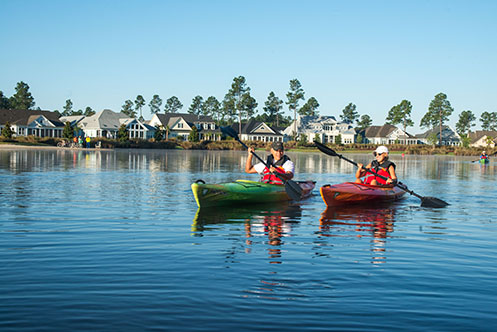 Wilmington Star News 1/6/18- Brunswick Forest has announced that it celebrated yet another record year in sales, welcoming 400 more families to the award-winning, master-planned community. "Each year we are excited to top the previous year's sales numbers," said Jerry Helms, Director of Sales and Marketing for Brunswick Forest. "Much of the secret of our success is simply listening to our customer base. When people come here to tour, they tell us what they want, which greatly influences what we build." Helms said August was an especially eventful month, as Brunswick  Forest hosted a grand weekend- long event featuring Paula Deen. The celebrity chef was in town to promote her line of furnishings, which were signature pieces in a Logan Homes, Banyan Bay model.  "Without question that event fueled a record month for us," said Helms. "We completed 100 transactions within the single month of August."
AWARD-WINNING AMENITIES
Almost from the beginning, Brunswick Forest has been racking up awards for the quality of its land planning, homes and amenities. In 2017, the community again was singled out multiple times. Accolades included being named in Where To Retire magazine's annual The Short List: The 50 Best Master-Planned Communities for the third time, and receiving Best of The Best Awards for tennis, pickleball and kayaking from Ideal Living magazine. "Our amenities are the centerpiece of our coastal by nature lifestyle," explained Helms. "Brunswick Forest's location and amenity package are truly exceptional for those wishing to live an active life in coastal North Carolina. That's recognized on a national scale."  New in 2017, the developers delivered a second fitness and meeting facility for residents. The Hammock Park Fitness Center and Meeting Area in the Shelmore neighborhood is open from 6:00 am until 10:00 pm, giving residents easy access to the 11 pieces of cardio equipment including treadmills, elliptical machines and a recumbent bikes. The meeting space at the new center can accommodate groups up to 28 people.
Located near the community's entrance, the main Fitness and Wellness Center added many new activities in 2017, a trend that promises to continue into the new year. "We add programs all the time," said Helms. Additionally, updates to the popular Community Commons are scheduled for 2018.
ON-SITE SHOPPING, DINING & MORE
The Villages at Brunswick Forest broke ground on a new commercial building this past spring that expands meeting space for the community, and will welcome two new eateries in 2018: AM Diner and Shuckin' Shack.  "Residents love that they can walk or bike to The
Villages to shop, dine or even visit the doctor," said Helms. "We continue to add businesses that suit the needs of our residents." Helms said AA Storage will open soon, offering conditioned and unconditioned storage space, as well as RV and boat storage. Also on the horizon for 2018, the statewide orthopedic practice EmergeOrtho is in the final stages of approval for a new 40,000-squarefoot medical facility featuring two surgical suites, with construction expected to begin in the spring.  Finally, a continuing care retirement community, offering independent living, assisted living and skilled nursing care, is also scheduled to break ground in 2018.
NEW HOMES IN THE NEW YEAR
As they prepare to embark on a new year, the developers of Brunswick Forest said they plan to release a wide variety of properties covering a range of price points and living styles. Among the scheduled offerings in existing neighborhoods: new townhomes and single-family home sites in Cypress Pointe; the next phase of Spring Branch in Shelmore; new homes and home sites in the Parkway Crossing and Cape Fear National® neighborhoods.
Helms said future development plans also include two new neighborhoods, one called The Lakes and another inspired by the popular existing Leewards neighborhood that is yet to be named.
"We also have plans to release new golf and waterfront home sites along hole 11 in Cape Fear National," summarized Helms. "As long as potential customers and future residents make their wishes known, we will try very hard to meet the needs of future families."
YEAR FOR BRUNSWICK FOREST
The community's second fitness and wellness center opened in 2017. To learn more about Brunswick Forest, or to take a personalized tour among the dozens of model homes open daily, stop by the Welcome Center or call 910.239.3786 for an appointment.