After 15 years, how Brunswick Forest survives, thrives and plans for more growth
August 24, 2022
Beth Burgee
Wilmington StarNews
8/23/2022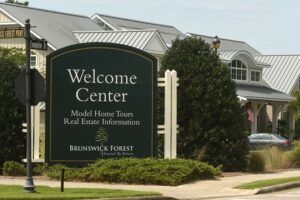 Jerry Helms can recall when Leland was nothing more than a "pass-through" town on the way to Wilmington.
"Wilmington was the town for us," said Helms, an Oak Island native.
These days, the drive up U.S. 17 looks a bit different.
Instead of fields and trees, there are communities, grocery stores, medical offices, restaurants, and retail shops. The once-small Leland is now one of the fastest-growing municipalities in the country, nearly doubling its population from 13,527 in 2010 to nearly 26,000 in 2021.
As president of Brunswick Forest, Helms has had a front seat to the growth. The development marks its 15th anniversary this fall, and it's difficult to imagine Leland without it. Brunswick Forest has been a driver of the town's population boom, changed its housing market, and brought economic development.
And Helms said there's more to come.
Blueprint for success
When you drive through Brunswick Forest, it's hard to imagine what it looked like 25 years ago. There were no homes or townhomes; no sidewalks, walking trails or swimming pools; no fitness centers. There was nothing but land covered with trees that served as timberlands for International Paper.
Then in the mid- to late-2000s, that changed. Jeff Earp, in partnership with Lord Baltimore Capital Corporation, purchased the property for a master-planned community. Helms, who joined the Brunswick Forest team in 2008, recalls the first neighborhood, Jefferson Landing, had 274 homes and townhomes.
"That was showcased through the first launch, called Dream Street in Brunswick Forest," he said. "Dream Street was a showcase of about five builders who all built models."
Helms equated the response to Dream Street to that of a "Gold Rush."
"There were cars lined up and just droves of people looking at Brunswick Forest," he said. "That was the start of something that's been pretty special."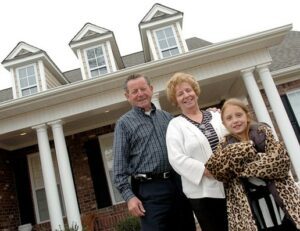 Greg Darrow was one of those there from the start.
Originally from Rochester, N.Y., Darrow discovered Brunswick Forest by chance. At the time, his daughter was attending the University of North Carolina Wilmington, and Darrow began looking at property in the area. Initially, he inquired about lots on the Echo Farms Golf Course.
"One day, a kid in the pro shop answered the phone and mentioned that his parents were looking for property in a place called Brunswick Forest," he recalled.
Darrow had never heard about the community but decided to investigate. The first 274 lots sold out in just two months, and Darrow found himself on a wait list and headed back to Rochester. Over the next few months, he got a few calls about properties because deals had fallen through. But Darrow and his wife wanted a particular lot and builder.
They declined the first offers, never knowing if there would be another one.  Finally, they got a call for the lot and builder they wanted, and they drove from Rochester to Leland to check it out.
"You had to act quick and come down with a check in hand," Darrow said.
He met the builder, and they visited the lot in a four-wheel drive truck. Darrow and his wife looked at the land, marked by stakes in the ground, and liked what they saw. They signed a contract, and once the home was built, they moved in and remained there.
"It seems like it's still new," Darrow said. "I can't believe it has been 15 years."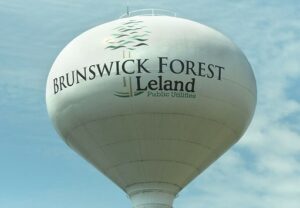 'A different world'
The first property owners moved into Brunswick Forest in 2007, and at the time, developers across the area were struggling to stay afloat due to the housing market crash. But while other developments stalled or never came to fruition, Brunswick Forest experienced exponential growth and continues to thrive.
There are now about 3,500 homes boasting about 6,000 residents, making it Leland's largest development.
Darrow has enjoyed watching the neighborhood grow, and is grateful he and his wife ended up in Brunswick Forest. He knows others who purchased homes around the same time who weren't as lucky.
"We had friends who bought lots elsewhere, and they got killed," he said. "They lost their money. We happened to pick the right one."
When looking at the development's success, Helms believes there are many factors. He gives credit to Rex Stephens and Bobby Harrelson, who developed Magnolia Greens and paved the way for development in Leland.
"I think there were a lot of folks way back when who said, 'What do you mean you're going to Leland to develop a golf course community, and they were somewhat ahead of their time and had a big influence in the development of Leland as it is today,'" Helms said.
He also believes the community itself offers something unique for its residents. Brunswick Forest is made up of many different neighborhoods, each one offering different styles of homes: West Indies, Floridian, coastal cottage and neo-traditional front porch-style living.
"We're giving folks a variety," Helms explained.
He adds that while it is a master-planned community, it's not gated.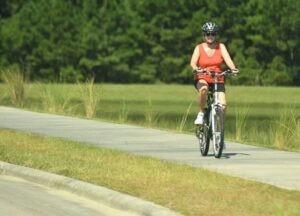 "Master planned means that a developer said, 'We're going to build a style of living, we're going to build a consistency of neighborhoods, and then create an amenity offering that appeals to a broad range of folks,'" Helms said. "That means we're not a golf course community; we're a lifestyle community that has a golf course."
In addition to Cape Fear National, its award-winning championship golf course, Brunswick Forest offers walking and biking trails, fitness centers, parks, tennis and pickleball courts, several pools, and a three-acre lake.
Darrow believes the landscape is one of the community's biggest assets.
"One minute you're in housing and homes, and the next minute, it's like you're in the mountains of Virginia or somewhere," he explained. "It's like you've been transported to another world."
The community also offers a town center, which includes more than 500,000 square feet of retail, dining, medical, and professional offices, which can all be accessed by the neighborhood's paths and trails, so residents never have to leave the community.
Darrow said the residents take advantage of the conveniences offered in the town center, and they are especially grateful for the convenient access to healthcare offered there.
"EmergeOrtho loves those of us who play pickleball and fall off our bicycles," he joked.
He added while he and his wife still enjoy going to Wilmington for dining and entertainment, they know they will appreciate the convenience of the town center as they grow older.
Impact on Leland
As the town's biggest development, there is no question Brunswick Forest has made a significant impact on Leland. Helms, who grew up on Oak Island and previously served as vice president of St. James Plantation, can recall watching St. James Plantation grow and the effect that it had on the Southport-Oak Island area.
He believes Brunswick Forest has done the same thing for Leland.
From the beginning, those developments created jobs in the construction and building industry, and then as people began to move into the homes, it created additional demand for services.
"Those folks need grocery stores, and now in Leland, you have a Food Lion, a Lowes Foods, a Harris Teeter, and eventually a Publix," he said. "That growth that a new population or new in-migration of folks has given us locals additional things."
While locals have many more options, not all are excited about the growth.
Blake Hobbs is a Leland native, and he and his mother have homes on a 20-acre tract that once belonged to his grandfather. Hobbs worries about one day being priced out by the rising costs, and as an avid hunter, he's also concerned about the environmental impacts of development.
"Leland has allowed development to go as fast as possible without taking into account the destruction of wildlife habitat, an overcrowded school system, outdated and overcrowded roads — all for the almighty dollar," Hobbs said.
Locals like Hobbs are trying to maintain their homes, and each year, they are joined by those looking for their own piece of paradise to retire.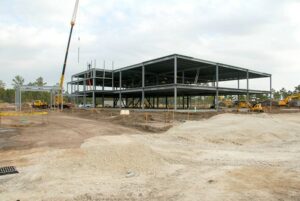 Beth Burgee, marketing director for Brunswick Forest, believes developers of Brunswick Forest have considered the impact to the town to ensure that it benefits more than just those residing in the development.
"Brunswick Forest is a master-planned community," Burgee said. "The developer has worked alongside the town officials since day one to ensure that the growth of our neighborhood has a positive impact on the town of Leland."
She adds that some positive aspects of growth are the addition of citizens who want to be involved in the community.
"They are seeking volunteer opportunities within our local charities, they are raising funds and contributing to causes which help our local area," Burgee said. "Some of our residents are even giving back by becoming involved with local politics and tourism initiatives. We have also seen the addition of many new businesses as a result of the influx of residents which has had a very positive economic impact for Brunswick County as a whole."
Helms also addressed the influx of people who bring with them a variety of different experiences, which he said enriches the community at large.
"It has given us a lot of expertise because a lot of folks that have retired here but are not ready to quit work, per se," he said. "So, they volunteer with everything from schools to municipality work to church organizations — all sorts of things. By bringing in folks from other parts of the world and the country, that has helped us as a community continue to grow and bring in a different set of culture and ideas and expertise in all facets of the community."
Mayor Brenda Bozeman also acknowledged Brunswick Forest's contribution to the town's growth.
"It has contributed so greatly to our economic development but, more importantly, by adding so many wonderful people to our town," she said.
She added the town will continue to benefit from both the commercial and residential development.
"Brunswick Forest has already given thousands of people the opportunity to call Leland home. In turn, they have given back to their community through service," Bozeman said. "We are grateful for all of our residents and how they continue to ensure Leland is a great place to live, work, and play."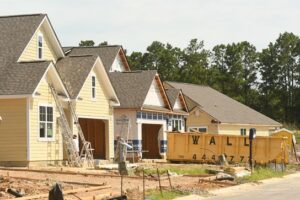 Development's future
Despite being the largest community in Leland, Brunswick Forest is not finished. Helms explained the master association of Brunswick Forest continues to develop neighborhoods within the community.
"We are just now completing and selling the final phase of our golf course neighborhood called The Peninsula at Cape Fear National, and we're selling homesites in there anywhere from $140,000 up to $300,000," Helms said.
In addition to building within the community, Helms said some of the adjacent land that was part of the original International Paper tract will be developed alongside Brunswick Forest, but it will not be part of the development.
He explained the land will connect to Brunswick Forest, much as Mallory Creek Plantation does, but it will be a separate community.
The commercial part of Brunswick Forest will also continue to grow, adding additional medical offices, shops, and restaurants. One of the major additions that will open soon is Brunswick Beer and Cidery, a sister restaurant of Wrightsville Beach Brewery.
Helms expects the commercial area to continue growing until it is fully developed, which is expected to happen over the next four years.
Wells Insurance recently made the move to Leland and opened an office inside Brunswick Forest's sales office on Evangeline Drive. Jared Cranford, director of personal lines for Wells, explained the new location was a smart choice.
"Leland is a growing and vibrant town, which we are now proud to be a part of, and being located in Brunswick Forest allows us to be centrally positioned to serve our growing Leland family of clients," Cranford said.