Brunswick Forest hitting its stride as a growing community
June 15, 2011
Brunswick Forest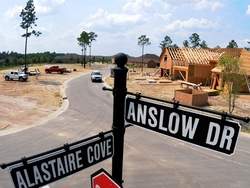 Wilmington Star News
By Jason Gonzales
Jason.gonzales@starnewsonline.com
Staff photo by Mike Spencer

Brunswick Forest seems to be humming along despite the real estate bust elsewhere in the county.
Brunswick Forest has become more than just a development and a dusty work in progress.
"I bought my home because of the bang for my buck," said Robbie Walker, a homeowner in Jefferson Landing who purchased his property in 2007. "There was nothing but a dirt road when we first purchased."
And although there is still dust from the work to build homes, Brunswick Forest is now a community.
On any given day, Walker said, you can find residents walking the development's trails, using the community fitness center, golfing, organizing potlucks and gathering for social events. And you can see signs of construction all throughout the complex.
While Brunswick Forest has seen a slightly slower pace than developers once hoped, the development is starting to see rapid growth, both in residents, stores and offices.
"Things are going as planned, maybe a little bit slower than we had initially hoped, but as planned," developer Jeff Earp said.
Some slowdown came from the 2008 recession, but because the development is completely funded by Lord Baltimore Capital Corp., its growth hasn't slowed very much, spokesman Tobin Spirer said. At least $200 million of the amenities and infrastructure has been invested in already.
In terms of residential growth, the development had a record year last year, with 145 total homes sold.
This year, home sales are 30 percent above where they were this time last year, said Jerry Helms, director of sales.
He said it should be another record year, with more than 170 homes predicted to be sold.
The 4,500-acre development is projected to have more than 7,500 homes.
Also, residential neighborhoods such as Jefferson Landing are complete. That has helped create a community feel, and not a work in progress, Walker said.
"Its thriving," he said. "You see neighborhoods that are full of retirees, middle-aged couples like me and younger families with children."
Residential resales also have been doing well, real estate agent Karen Schwartz said. A good part of that has to do with the lifestyle, services and amenities, she said.
And Earp agrees. He said a good part of Brunswick Forest's success is because it has been able to add amenities on schedule thanks to its capital investment.
"In today's tough financial environment, its a tremendous aid for customers when you can keep promises."
Commercially, Brunswick Forest is preparing to begin construction on buildings that will soon house a Lowes Food and CVS pharmacy stores.
"And we have had a lot of interest from other companies, and we fully expect to lease out any extra space shortly," Spirer said.
When constructed, both buildings will hold about 55,000-square-feet of the expected 500,000-square-feet that will fill The Villages commercial development.
Seven businesses already occupy part of The Villages.
Attracting businesses has not been without some hiccups.
Frank Theatres was to build a multi-screen cinemaplex complete with a bowling alley, Spirer said.
"We had high hopes a Frank theater would have been built, but unfortunately they were unable to complete and fulfill expectations, including their own," Spirer said.
http://www.starnewsonline.com/article/20110615/articles/110619801&tc=yahoo?template