BEST PLACES TO EAT BRUNCH IN AND AROUND BRUNSWICK FOREST
December 6, 2015
Brunswick Forest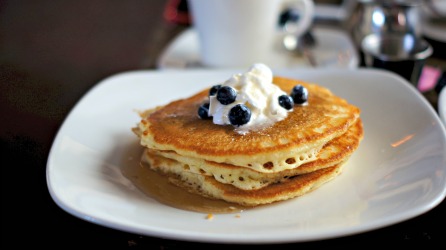 THE BASICS
Head to The Basics in nearby downtown Wilmington for authentic southern brunch fare like stoneground grits or the fried chicken biscuit. Afterward, take a stroll through the historic Cotton Exchange or visit one of the area's many boutiques.
DIXIE GRILL
Also located in downtown Wilmington, the Dixie Grill is a local hotspot and has been serving residents delicious fare since the 1960's. Try the Dixie Benedict which is a freshly baked open faced biscuit with fried green tomatoes and scrambled eggs topped with Vidalia onion gravy.
THE FOREST AT CAPE FEAR NATIONAL
There is no need to leave the community when searching for a delicious breakfast or brunch! The Forest at Cape Fear National serves breakfast from 8 am until 11 am seven days a week. Take a walk over, or ride your bike and enjoy a great breakfast in our cozy clubhouse dining room.
PINPOINT
Brand new to the downtown restaurant scene, Pinpoint serves brunch on Saturdays and Sundays from 10:30 am until 2 pm. Pinpoint offers traditional dishes with unique twists, all using locally-sourced ingredients whenever possible.
SWEET AND SAVORY CAFE
Head towards Wrightsville Beach and make a stop at Sweet and Savory Café for their famous breakfast. Try their delicious and varied breakfast bowls or, if you are feeling extra hungry, opt for one of their four-egg omelets.
WHITE FRONT BREAKFAST HOUSE
With a long-standing reputation for hearty breakfast fare and a 40-year track record of satisfied customers, the White Front Breakfast House is a Wilmington institution. The restaurant features old-school counter service and offers all your traditional breakfast favorites.
888.371.2434
www.BrunswickForest.com