BENEFITS OF KITCHEN ISLANDS
November 25, 2014
Brunswick Forest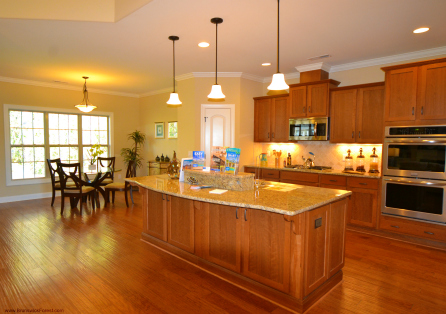 Kitchen islands are a fantastic feature of modern homes. At Brunswick Forest, our builder teams have countless home plans available to choose from—many that feature large islands in the kitchen area. While islands are not always feasible in every home plan design, they are a great option for some kitchens and have a number of benefits:
ADDED STORAGE
Kitchen islands provide additional storage space for all of your pots, pans, dishes and appliances. A great thing about kitchen islands is that you can access storage space from all sides, which is not only convenient, but it also helps keep all of your kitchen items neat and organized.
INCREASED WORK FLOW IN THE KITCHEN
Islands are often important in creating a perfect "work triangle" for the kitchen. The work triangle optimizes kitchen space for the most efficient use of the space between the sink, refrigerator and stove top.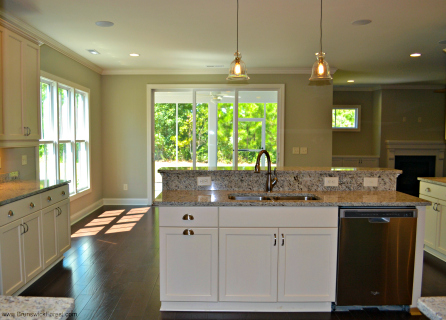 PROVIDES ADDITIONAL SEATING
Kitchen islands are a great feature for homeowners who love to entertain. At Brunswick Forest, our preferred builders have home plans that have kitchen islands with room to seat four or more of your guests so you can entertain while you are preparing a wonderful meal for visitors to your home!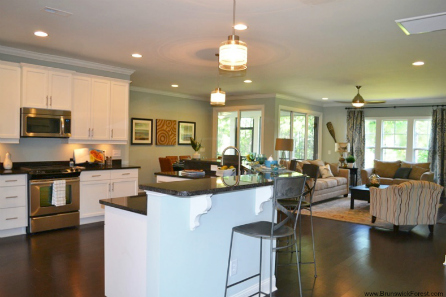 HELPS SEPARATE SPACE
In modern homes with open floor plans, kitchen islands can be fundamental in serving as a separation point between living areas and the kitchen, while still keeping the feel of one large open space.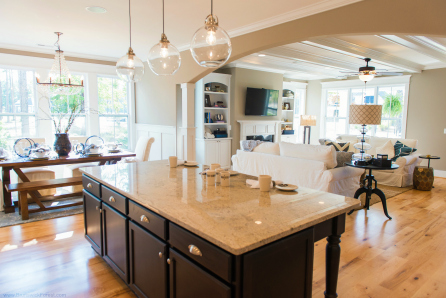 888.371.2434
www.BrunswickForest.com