BE SOCIAL AT BRUNSWICK FOREST
July 29, 2016
Brunswick Forest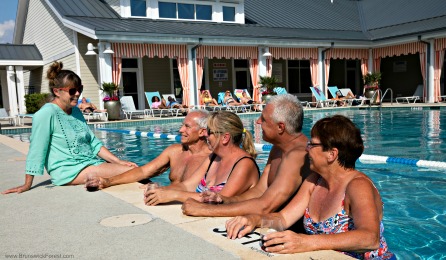 One of the best features of Brunswick Forest is its many activities and opportunities for residents to socialize. In this lovely 4,500 acre community, residents have many choices for social activities like the community neighborhood socials, group activities through the Fitness and Wellness Center, event nights at the clubhouse at Cape Fear National and socializing via the community's many social media channels.
NEIGHBORHOOD SOCIALS
Brunswick Forest offers neighborhood socials held in the community's clubhouse at beautiful Cape Fear National. Enjoy fine cuisine, specialty cocktails, wines and beer all while getting to know your closest neighbors.
GROUP ACTIVITIES
Take part in fun group activities like group fitness classes at the Fitness and Wellness Center, or one of the more than 50 resident-sponsored clubs that meet regularly in the community. The Fitness and Wellness Center also plans group outings each month for residents to sign up for. These include boat cruises, kayak trips, travel excursions, sports games and more. Check our neighborhood calendar for information on what is going on in the community each month.
EVENT NIGHTS
Join the Cape Fear National E-club and get weekly emails on upcoming event nights at the clubhouse. These fun-filled events include such activities as Bingo, Mingo, live music, pub night and more! Sign up for each event and have fun getting to know your fellow community residents.
BRUNSWICK FOREST SOCIAL MEDIA
Keep current with community news and events and chat with your Brunswick Forest neighbors on our community social media channels! We are active and social on Facebook, Instagram, Google+, LinkedIn, Pinterest, YouTube, Tumblr, SlideShare, Twitter and Houzz. Be sure not to miss regular updates and posts on our community blog, "In the Forest."