BATTLESHIP NORTH CAROLINA
November 29, 2014
Brunswick Forest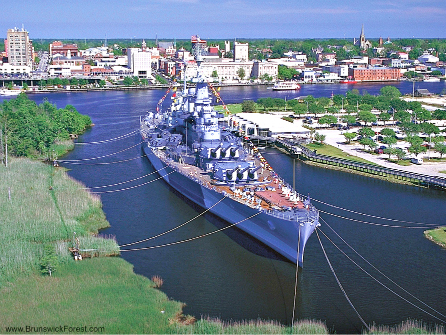 One of the area's most popular attractions is the USS North Carolina which is stationed off US 421 at Battleship Park, just a few miles from Brunswick Forest. Part memorial, part museum, the grand ship is a favorite of tourists and locals alike. The North Carolina is known for its service in combat in the Pacific Ocean during WWII.
HISTORY
The North Carolina was constructed in 1937 and, at the time, was considered the world's greatest sea weapon. It joined a list of 10 battleships that comprised part of the American fleet in the war in the Pacific. The North Carolina carried 144 commissioned officers and a total of 2,195 enlisted men and participated in every major naval offensive in the Pacific area, earning 15 battle stars.
A CLOSE CALL
The North Carolina was hit by a Japanese torpedo in September of 1942 and suffered significant damage, but, thanks to the crew, was still able to keep up with the rest of the fleet.
TOURING THE SHIP
The North Carolina is open daily for self-guided tours. The property includes areas in nine different levels of the ship that are open for touring. Start your visit by taking in an introductory movie in the auditorium followed by a tour of the exhibit hall before boarding the ship to wander through its historic hallways.
888.371.2434
www.BrunswickForest.com