Battleship North Carolina Completes Walkway
May 8, 2018
Beth Burgee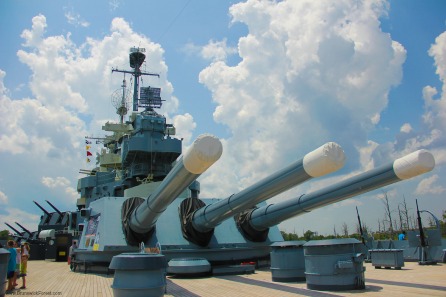 One of North Carolina's most popular attractions, the USS Battleship North Carolina, has just completed a two-year long, $17 million renovation, which includes a new cofferdam and half-mile long walkway around the ship. Dedicating the new walkway to U.S. Veterans, the ship held an invitation-only ceremony on Thursday, April 26th.
Since coming to her berth in 1961, the ship has had over 50 years of wind and water at the tide line and left the hull of the ship paper-thin in places. The purpose of a cofferdam is to allow the enclosed area to be pumped out, creating a dry work environment. This dam will enable workers to repair and restore the ship's hull.
Completing both projects on Thursday, the SECU Memorial Walkway is a half mile long, 10 foot wide timber walkway that surrounds the Battleship. Built below the main deck of the vessel, the new walkway enables visitors to see the entire hull of the ship for the first time. Also included in the walkway are five dedicated areas to each branch of our military – Army, Navy, Marine Corps, Air Force and Coast Guard.
In 1962 the Battleship was dedicated as a memorial to its World War II Veterans and the 11,000 North Carolinians who died during the war. Branching out further with their newest addition, the Walkway will be dedicated to U.S. Veterans of all services.
Opening to the public next month, the SECU Memorial Walkway allows for a 360 degree view of the ship and will be free of charge to guests.
You can find pictures from yesterday's Dedication Ceremony here.