Autumn Home Decorations
October 26, 2020
ISWebmaster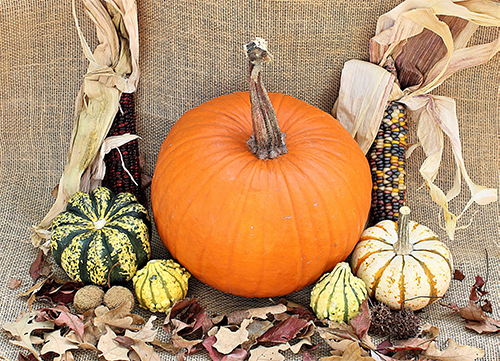 Be it the leaves of the local crepe myrtle trees changing to a rustic orange or residents placing pumpkins on their porches, there is a lot of beauty in the welcoming of Fall. These are few easy tips you can follow to make your house the talk of the block at Brunswick Forest!
The historical significance of Autumn is in the symbolism of harvesting. In ages past, cultures would celebrate the coming of cooler weather, bountiful harvests in the fields, and preparing for the winter to come. Some traditions still look to older styles of decorating by gathering from nature and add to your home. Others might prefer the more modern aspect of visiting a HomeGoods or crafting store to add a little Autumn vibe to their living areas. As always, mixing, and matching colors are pivotal to making a theme work properly and compliment your home. You do not want to go too overboard, but there is no reason to shy away from being creative. After all, half the fun of decorating is that you can be as complex or simplistic as you desire.
When it comes to your dining area, you can always bring in warm and earthy colors to set the vibe. Table runners look great in rustic orange and look better with plates that display a dark green color. For an extra Autumn touch, feel free to finish the table off with seasonal blooms.
Outdoors should feel just as comfortable as indoors during the Autumn season. Just because the air is a bit cooler outside does not mean that you can not enjoy the great outdoors with some comfortable décor to set the mood. String lights are a great away to add some after-dark atmosphere for yourself and any guests you have over. Plush blankets, throw pillows and lanterns can also add extra spice to any outdoor furniture you have set out. It is good to have the theme on the inside of your home carry to the outdoors as well.
Pumpkins have long been a staple of Autumn decorations in the homestead, and that theme continues as a recommendation for this year as well. Here is a simple way to add fall flavor to the center of your home! Simply take a shallow bowl, fill them with mini pumpkins (or even synthetic pumpkin ornaments), and then mix in string lights for a piece that is lovely and seriously simple! Do not forget about seasonal flowers and plants like marigolds, hanging them around the porch will add a natural splash of color that you will love. Since its beginning to darken a lot earlier this time of the year, it is nice to have some mood lighting around the house as well! Dip dye candles are simple to make and add a unique look to your main living areas. All you need to do is take large, tapered candles and dip them in melted crayon shavings or colored wax, and you will have a conversation piece for any Autumn guests.
Corn husks, like pumpkins, have been a traditional symbol of an Autumn harvest. Be it real or artificial, colored corn can often be seen gracing the front doorways and entrance areas of many homes. They are attractive and very simple to hang up as well, so why not think about adding some to your home this year? Even empty corn husks can be made to attractively accent a doorway, think of them as a form of a wreath for the fall season. It is a gold standard this time of year, and with so many creative ways they can be used, corn and corn husks should be on your list to try for decorating purposes.
Having dedicated foliage displays in your home can be another easy way to turn a kitchen or living room into something special for the season. You do not even have to stick to traditional vases for fresh Autumn blooms. This year, a big trend that homeowners are trying out is using empty vintage tins to act as a display case instead! It is just another way to add some rustic aesthetic to your home, especially if your residence is a modern farmhouse styled floor plan. Even something as simple as small apples you buy in the grocery store can be turned into a creative outlet for your home décor. By coring some apples, you can instantly hop into one of this year's most interesting trends, which is turning the cored apple into a candleholder!
As you can see, the sky is the limit this year for Autumn design trends! And the best part about all these ideas is that you do not have to break the bank to look the part. It is a healthy creative outlet, and the results are shockingly attractive! For Autumn this year, be sure to give some of these cool concepts a try.