AREA OFF-LEASH DOG PARKS
August 3, 2017
Beth Burgee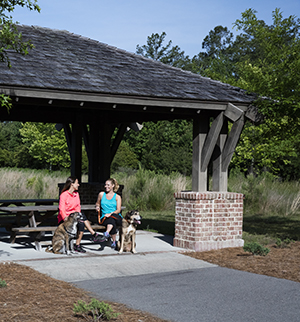 Does your dog need some off-leash playtime?! As a Brunswick Forest resident, you are in luck…there are several local off-leash dog parks just waiting for your four-legged friends!!
Take just a short drive to Hugh MacRae Park in Wilmington, NC where Fido and the whole family can play! Hugh MacRae offers two nicely-sized dog parks. Plus, there are picnic areas and playgrounds for all to enjoy while Fido makes new friends!
Also in Wilmington, you will find Empie Park offering two off-leash parks…one for smaller dogs and one for larger breeds! Plus, water and hoses are there if your dog needs a quick clean up after a fun play date.
In Leland, Magnolia's Bed & Biscuit offers a supervised off-leash play care facility for your four legged friends with a splash pad area, web cams and over night care if you need.
Lastly, you don't even have to leave Brunswick Forest if you're looking for an off-leash park as there are two in Meadow Park at Brunswick Forest with nicely mulched fenced-in areas and a shaded picnic pavilion for you to beat the heat!
So let the dogs out to play!!
888.371.2434