ANTIQUING IN SOUTHEASTERN NC
September 11, 2017
Beth Burgee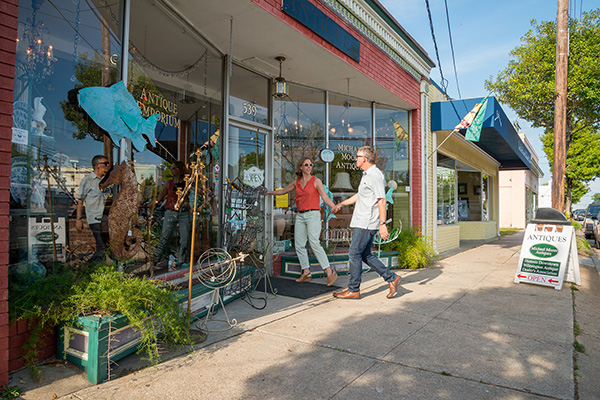 Southeastern North Carolina is known for its great antiquing especially in the cities of Southport and Wilmington. Tune in as we explore our favorite spots for those rare and vintage finds.
Wilmington is a well-known historic port city of the Cape Fear region and there's no doubt that valuable antiques can be found.  From famed shipwrecks to family heirlooms from the 1700s, we recommend searching these stores for one-of-a-kind finds:
Ivy Cottage– What started as one cottage on Market Street, turned into three and a warehouse!!  The Ivy Cottages are busting at the seams with distinguished, luxury consignments.  Give yourself the morning to explore all of their inventory!
Flea body's Antique Mall– Also located off of Market Street, you will find this 7,000 square foot treasure trove of furniture, antiques, collectibles, household goods and unique creations.
Antiques of Old Wilmington– You will find this 6,000 square foot haven located in historic downtown Wilmington featuring beautiful tin ceilings which are appropriate for one of the largest antique lighting collections in the southeast.  Plus, you will find over twenty five barrister bookcases, bookends, oil lamps, decanters, glassware, cameos and more!
Thrill of the Hunt- Well, the name pretty much says it all, but if you want the THRILL take a trip over to this unique store located off of Oleander Drive.  You will find great furniture pieces, serving ware, rugs and more.
Southport, NC is nestled beautifully in between the Cape Fear River and Atlantic Ocean with ties to maritime history that date back to the 1700s.  Come peruse the antique stores of this beloved coastal town.
Old Elegance Antiques- Located in the heart of downtown Southport, this charming store offers fantastic antiques, glassware, serving trays and more!
Northrop Antique Mall– A whole mall full of silver, furniture, glass, art, books, china, jewelry, nautical charms, Howard's products, plate displays and even candles from 38 different vendors.
Shops of North Howe- A fun little set of stores with great customer reviews and feedback.  Check them out to locate antique and unique finds!
Make plans this Saturday to antique your way through southeastern North Carolina.
www.brunswickforest.com
888.371.2434