Annual Azalea Festival!
March 9, 2019
ISWebmaster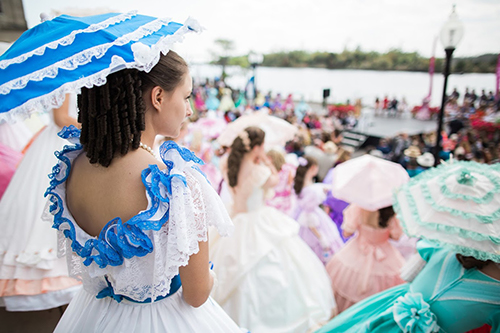 It's that time of year again, when the air begins to warm, and bluebirds welcome in the spring season. As many will tell you, nothing says spring time in North Carolina like the Wilmington Azalea Festival. Now, we're just one month away! The residents of Brunswick Forest are always excited for the largest event of its kind in the state of North Carolina.
With its roots stretching all the way back to 1948, the North Carolina Azalea Festival is held every year in April. Spanning five days, people are invited to experience Wilmington's river-to-the-sea lifestyle. National recognition as a showcase for local home and flower gardens has always been an over-arching goal of the Azalea Festival. Visitors look forward to the Azalea Festival just to view the beautiful gardens in Wilmington.
No home garden tour is complete without beautiful Azalea belle's beckoning people to the brilliant displays of horticulture. Many a young lady has kept the tradition of dressing in Antebellum styled gowns to entice guests to see some of the finest gardens in the area.
Everywhere you look, the Azaleas put on a dazzling display of natural beauty. It's no wonder why this flower is the symbol of coastal Carolina's rich heritage.
Azalea Festival is not limited to garden tours. People flock in droves to view some of the main events in Downtown Wilmington. Over 100,000 people attend the parade held near the Cape Fear Waterfront, while 200,000 attend the two-day street fair held in the city. Vendors selling all kinds of goods line the streets. Food vendors fill the air with smells of funnel cakes and other festival treats. Arts and craft vendors selling pottery, paintings, and other great items will also line the streets.
Concerts and guest performances continue to light up the stage as they have in Azalea Festivals of yore. The 2019 performances include artists such as Tyler Farr, Hank Williams Jr., The Flower Pack and other great acts, you'll be grooving all day long!
Kids aren't left out either! The Azalea Festival offers fun filled entertainment for children of all ages.
It is no wonder the Azalea Festival is often chosen as one the Southeastern Tourism Society's top twenty events in the area. Nothing compares to the amount of pageantry, seasonal merriment, and community pride that the greater Wilmington area reflects in setting up the Azalea Festival. It's a southern tradition that Brunswick Forest highly recommends you don't miss!