ANNOUNCING KATE LICHTENFELS AS BRUNSWICK FOREST'S BROKER RELATIONS SPECIALIST
June 27, 2017
Beth Burgee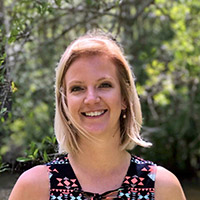 We are excited to announce Kate Lichtenfels as Brunswick Forest's Broker Relations and Business Development Specialist. Kate has been an important part of our team serving in several pivotal roles since her inception at Brunswick Forest. Kate is eager to get started in her new role and looks forward to working with each of the beloved brokers that refer their clients to Brunswick Forest each and every day. Kate will be there to assist them with any questions they or their clients might have. She will also help with organizing special co-op programming for our referring brokers such as luncheons, golf outings, giveaways and the Annual Broker Bash (the highlight event of the year where we give away thousands of bonus bucks to those brokers who have referred closings to Brunswick Forest throughout the year)!!
So look to see Kate out and about in Wilmington, Leland and Greater Brunswick County…maybe even heading to an office near you!!
A LITTLE BIT ABOUT KATE
Kate is originally from Charlottesville, Virgina.  She is a graduate from Christopher Newport University with a degree in Biology.  She is very giving person who has spent much of her free time doing for others– even traveling to Haiti to help with a medical mission trip.  Kate is a certified Pilates instructor as well as an avid Scuba diver.  Her passion for diving and conservation have taken her all the way to Madagascar on a 6-week coral reef conservation project.  Kate is a very well rounded individual equipped with a brokers license and a vast knowledge about Brunswick Forest.  She will surely continue to be an asset to our team.
888.371.2434