Always Involved: Meet Beth Burgee
March 23, 2022
ISWebmaster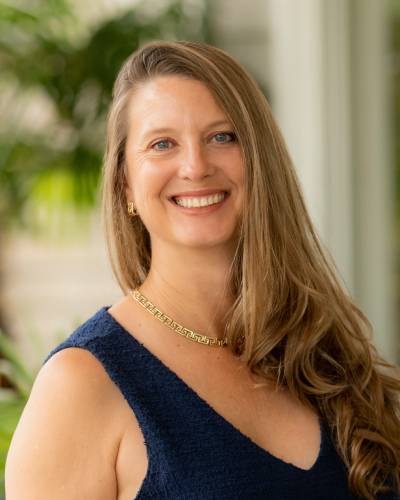 Beth Knows Community Living
With over 20 years of experience working with master-planned communities, Beth Burgee knows that establishing trust is a vital tenant of the real estate industry. Originally from the DC Metropolitan area, Beth has been a valued member of the Brunswick Forest team for five years. After a milestone of extraordinary growth, Beth is looking forward to another fantastic year at Brunswick Forest.
An Experienced Team Member
Our community has grown since Beth first joined us in 2017. What was once a lot of sand and pine has now evolved into a paradise for thousands of residents living an ideal, active lifestyle.
Beth is no stranger to meeting new faces and visiting different places. Residents and aspiring homeowners might recognize her face from the countless home shows she's attended, or one of our coastal showcase weekends. When Brunswick Forest is holding or attending a special event, you can always find Beth conversing happily with guests and residents. She's ready to lend a helping hand, guide you in the right direction, and connect with anyone interested in being a part of our community.
Beth Loves the Area
Every resident has their own story for why they decided to move to coastal Carolina. For Beth, her reasons for relocating were because she fell in love with the area. "I came here shortly after graduating from college and fell in love with the friendly people, gorgeous sandy beaches and warm summer days" she says. Now a full-fledged Wilmingtonian, Beth has come to have a special love for this locale and all it has to offer. From its seven white sand beaches to the wide variety of shops and restaurants, Beth knows that there's a lot to love about Wilmington and Leland.
Working as One
The Brunswick Forest real estate team is unique in that they are professionals as well as friends. With the love of our community in common, there is a great deal of comradery with the residents here. The bonds here go beyond the sales office.
As Marketing Director for Brunswick Forest, Beth's duties involve utilizing resources and agencies to help promote the image of our community through a variety of media. Beth is also an active "face" for Brunswick Forest, making appearances around major community centers like our Fitness and Wellness Center, The Villages Town Center, and the Welcome Center.
Welcoming and Professional
Beth is one of the first smiling faces those first-time guests and new residents will meet visiting Brunswick Forest. From the Welcome Center, she and the rest of our agents work together to provide us with events, real estate collateral, and community information. More than anything, she loves the opportunity to meet new faces, hear their stories, and welcome them to the Brunswick Forest family. When she's not busy helping our community, she enjoys spending time with her husband, dog, and sons by the beach.
Beth has been and continues to be a prominent piece of our team. With all the growth that's been achieved over the past few years, she looks forward to more progress at Brunswick Forest. If you have a question for Beth or any of our agents, you can contact us at 833-497-1001.