A Weekend of Preservation
October 7, 2019
ISWebmaster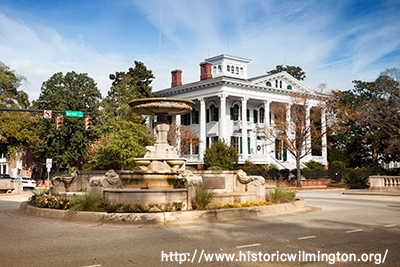 Downtown Wilmington, North Carolina is a great place to experience some of the most treasured historical landmarks in the Southeast. Minutes away from downtown Wilmington, Brunswick Forest gives residents easy access to famous landmarks such as Bellamy Mansion. The Historic Wilmington Foundation has been ensuring that Wilmington's legacy will continue to be enjoyed for years to come through this week's Historical Preservation Weekend.
The Historic Wilmington Foundation works tirelessly to protect and promote the historical significance of Wilmington. There is a wealth of buildings from the colonial, antebellum and early modern periods. Some of these buildings are over 100 years old, and thus require the proper care to remain prominent local attractions. The Historic Wilmington Foundation was founded in 1966 by a small group of individuals. To this day, they are helping local heritage sites thrive by promoting advocacy, education, engagement, house rehabbing, legacy architectural salvage and much more.
Preservation Weekend will involve several events to promote advocacy for historical preservation in Wilmington.
The first of these events is a High School Speech Contest, which covers the topic of "impact of preservation." High school juniors and seniors will be competing to see who can best answer the question of why historical preservation is so important. Each student will have only five minutes to present a speech that they have prepared, and the top three will win nearly $2,000 in scholarship prizes. The first-place winner will receive $1,000, while $500 will be awarded to second place and $250 for third place. The individual speeches must be eloquently written and best describe why preserving a select local landmark is important.
Where: Union Station, 411 N Front Street, downtown Wilmington, 28401
When: October 10th, 5:30pm -7:30pm
Free to attend
This will certainly be a fun experience for anyone looking to learn about historic homes. Here, Historic Wilmington Foundation Plaque Committee member Carol Bragale will teach attendees all about historic plaque application. Carol will also provide invaluable historic research tips, tricks and advice for making sure attendees are always in the know about uncovering a home's history in Wilmington. Space is limited so be sure to pre-register at: https://www.eventbrite.com/e/plaque-research-made-simple-tickets-69731247037
Where: CFCC McLeod Building, 411 N Front Street, downtown Wilmington, 28401
When: October 11th, 6pm – 7pm
Free to attend
The final act of the Historic Wilmington Foundation's Preservation Weekend will be a free screening of the film "Wilmington on Fire" at one of Wilmington's best breweries.
Wilmington on Fire, a film presented by the Historic Wilmington Foundation
This film is a historical account of the events in 1898, where local groups temporarily overthrew the local government and exiled many locals. The Historic Wilmington Foundation calls this screening: "A way to remember our past to push for a better future." The director of the film, Christopher Everett, has poured countless hours of research and storytelling to create a film that brings history to life. Following the movie, guests will have a chance to speak with Chris for a Q & A session. Space for this film is limited, so be sure to reserve your seats here: https://www.eventbrite.com/e/hwf-presents-wilmington-on-fire-film-screening-tickets-71080881831
Where: The Art Factory at Waterline Brewery, 721 Surry St #5043, Wilmington, NC 28401
When: October 12, 7pm – 9pm
Free to attend
Whether you're a real history aficionado, or just want to learn more about Wilmington and how you can help preserve historic buildings, this Preservation Weekend is a great place to engage with the local area!