A Touchdown for Flavor: Superbowl Recipes
January 31, 2020
ISWebmaster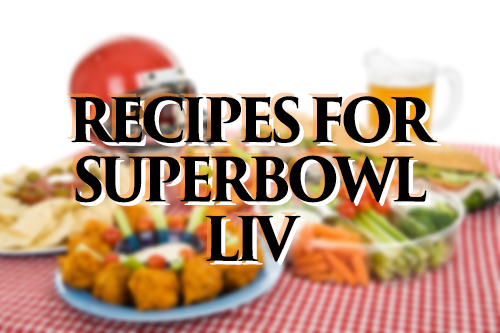 And the goal is good! February is just around the corner, and so is the Super Bowl this Sunday! Few things beat the feeling of hanging out with friends and neighbors, catching the game as two teams battle for the right to be Super Bowl champions. Most importantly, you'll want to make sure that your guests have plenty of thematic foods to grub on during the event! You can't let your living room go hungry, and food often makes or breaks the vibe of the crowd. Luckily, you don't have to think too hard about any of this. We have a few tasty recipes that are proving to be big hits for the new year.
Spicy Oven-Baked Wings with Blue Cheese: You can't beat a game day classic like Buffalo wings! Originally thought of as being nothing more than scraps to use in stock, chicken wings have become a staple that few can resist. Their popularity comes from their ease of preparation and versatility. Here's an easy to follow recipe that is sure to please the crowd.
The ingredients you will need are:
Two and a half pounds of chicken wings
Kosher salt and freshly ground black pepper
¾ cups of Frank's Red-Hot Sauce
½ cup (one stick) of unsalted butter
(For the Blue Cheese Dip)
½ cup of sour cream
½ cup of crumbled blue cheese
¼ cup of buttermilk
Kosher salt and freshly ground black pepper
Sliced fresh chives
Fire up the oven! First, you're going to want to Preheat your oven to 425°F. Then place a wire rack in a rimmed baking sheet. Prick the wings you've laid out all over with the tip of a paring knife, and then pat them dry. Season with salt and pepper. Transfer the wings to a prepared pan and spread them into a single layer. Bake the wings thoroughly, turning them once, until cooked and crispy. This usually takes about 50 to 55 minutes. Now it's time to prepare the sauce! Melt the Franks Red-Hot Sauce and butter in a large saucepan. Once your chicken wings are cooked, toss them in the saucepan to evenly coast them with the sauce. To add the finishing touch, it's time to create the dip! First combine 1/2 cup sour cream, 1/2 cup crumbled blue cheese, 1/4 cup buttermilk, and salt and pepper in a bowl. Then, you'll want to mix these ingredients together thoroughly. Top with sliced fresh chives and cracked black pepper before serving.
Slow Cooker Vegetarian Chili with Grains and Beans:
You can't say Super Bowl without a heaping portion of hot chili! Hearty and full of flavor, chili warms the soul during this time year. Just like wings, chili is versatile in that it can be made without without meat. We've included a vegetarian recipe for Super Bowl Chili that'll really knock your socks off.
The ingredients you will need are:
1 (28 ounce can) of crushed tomatoes
1 (14.5 ounce can) petite-diced tomatoes
1 tablespoon of chili powder
2 tablespoons of ground cumin
1 tablespoon of ground coriander
3 cloves of garlic (pressed)
1 chopped onion
1 large chopped carrot
1 chopped poblano pepper
¾ cups of wheat berries
Kosher salt and fresh ground black pepper
1 (15.5 ounce can) of rinsed black beans
1 (15.5 ounce can) of rinsed kidney beans
Sour cream
Grated Cheese
Fresh cilantro
Combine crushed tomatoes, diced tomatoes, chili powder, cumin, coriander, garlic, onion, carrot, poblano, wheat berries, and 3/4 cup of water into a five to six-quart slow cooker. Season the mixture together with salt and pepper. Cover the chili and proceed to cook it, until wheat berries are cooked but still chewy, seven to eight hours on low or five to six hours on high. Stir in both beans and cook until warmed through, eight to ten minutes. Serve with sour cream, Cheddar, scallions, cilantro, and lime wedges alongside the chili once it's done.
Good times are frequent and numerous here at Brunswick Forest. Our master-planned community is filled with sports lovers from up and down the coast. There are even clubs you can join and homecoming events where fans get together and discuss their favorite teams. If this is the kind of lifestyle you wish to share with others, then Brunswick Forest is waiting for you to join our family. Contact us at: 855.983.9579