A Scary Amount of Fun in a Coastal Paradise: Our October Coastal Homes Showcase
October 1, 2021
ISWebmaster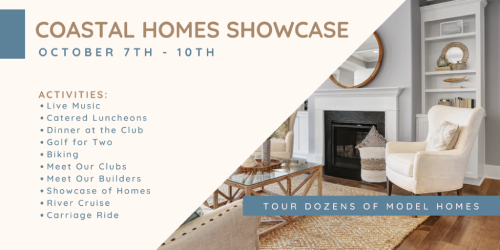 Why should you visit Brunswick Forest during a Coastal Home Showcase weekend? You'll have access to the perspective of our community, like actual residents! You'll be able to experience our lifestyle in a way a brochure could never provide. Brunswick Forest has welcomed dozens of new faces in 2021 and hope to welcome you next!
As we have often stated, there is more than one way to experience Brunswick Forest for yourself. One of our most popular methods is through our incredible Coastal Discovery Tour, which is a three-day and two-night experience that allows you to explore our locale and neighborhoods at your leisure. Coastal Discovery Tours are offered any time of year to suit your schedule. However, you still get a choice of which events you want to go to and have plenty of time to explore any homes you're interested in.
One of the best aspects of visiting Brunswick Forest during a Coastal Homes Showcase is being able to mingle with actual residents. What better way to learn if we're the community for you, than hearing it from someone who was, at one point, in your same position? On top of that, you get to mix in a variety of tours, fun activities, cocktail hours, and lunches on the same weekend. You're also able to talk and mingle with other visiting guests and bond over similar experiences.
October's show is already looking to be a real winner! Here's a quick run-down of all the activities you can expect:
Thursday, October 7th
Your first arrival at Brunswick Forest will be one of relaxation and orientation. Meet our real estate team and familiarize yourself with Leland, Brunswick County, and the greater Wilmington area. Stop by our Welcome Center in the afternoon to enjoy a drink and snacks and relax during your first day here.
Friday, October 8th
Rise and shine! It's a new day, and time to get your weekend in paradise started. The home touring part of our Coastal Homes Showcase starts early at 10 am and continues until 4 pm. That gives you ample time to tour our neighborhoods and homes you're most interested in with a lunch break in between. That's where our catered builder luncheon event comes in. Lunch will be hosted by our premier building partner, Legacy homes in their Hudson model. This is a fantastic opportunity to indulge in some local eats while asking any possible questions to the knowledgeable builder liaisons.
Once the sun begins to set, you can head over to our evening welcome reception held in the Brunswick Forest Welcome Center. You'll enjoy great food grilled by Cape Fear national's own Chef Scott, and some cool drinks to pair with it. And while you're enjoying your night, you'll get to relax with some live music by musician Monica Jane.
Saturday, October 9th
Once again, you will be able to enjoy an entire day of touring from 10 am to 4 pm. This will be your last chance for this event to see which homes in Brunswick Forest catch your eye. Saturday will be a little different for October's showcase this time around, as we will have a new special event on the list. Do you have a passion for old cars, fishing, playing cards, gardening, knitting, or any other fun activities? Our Meet the Clubs event is going to pique your interest! Being held at our Fitness and Wellness center, towards the entrance of Brunswick Forest, this is a golden opportunity to see some of our resident-sponsored activities. You will get to walk around from booth to booth, talk with club members, and see which like-minded individuals you would like to be part of. It's sure to be helpful, enlightening, and a great time to make new friends.
Another builder luncheon will be hosted on Saturday by liberty Homes in their Palmetto model home. Just like before, you'll get to eat good food and ask any questions you might have about floor plans and home customization options with some of the best home builders in the Southeast. To close out your final day at Brunswick Forest, we've got something special planned for you. Enjoy an afternoon at Cape Fear National. There will be live music, this time by local acoustic duo, Dos Eddies. Enjoy delicious food and drinks and mingle with builder representatives and residents.
The perfect end to an enjoyable weekend.
Our team can't wait to meet you! If you haven't yet signed up for our October Coastal Homes Showcase, be sure to RSVP soon. For further information, you can contact us at 833-497-1001.