A Forest of Impactful Flavor
July 12, 2021
ISWebmaster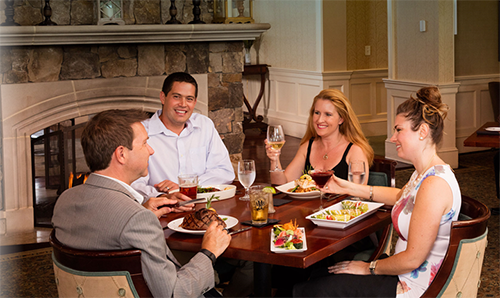 Being a part of greater Wilmington, Brunswick Forest is no stranger to the local attraction of fine eateries. When it comes to finding something good to eat, our residents don't have to travel very far. The Forest Restaurant, located right on the Cape Fear National golf course, is the perfect place to have a meal this summer.
Headed by Chef Scott Euvrard, The Forest Restaurant is known within and outside of our community for some of the best food around. It's located right inside the 7,000 square-foot Cape Fear National Clubhouse and provides dining patrons with an incredible view of the course. For anyone looking to play nine or 18 holes and end the day with a delicious meal, this is the place to be.
While it's a hotspot for local golfers, you don't have to be into the game to enjoy a great meal. The Forest Restaurant is open to all residents and guests in Brunswick Forest. When the weather's nice, you can enjoy your meal outside on the patio while overlooking Cape Fear National's signature ninth hole. The inside of the restaurant includes a full-service bar and dining room area, set inside a luxurious setting that evokes the ambiance of a private facility.
Here are a few items from their most recent menu:
Starters:
Calabash Style Shrimp – Tender local shrimp dipped in a seasoned seafood crust; flash-fried with vegetable slaw.
Pretzels – Light and fluffy with cheddar ale sauce or spicy mustard.
"Totchos" – A different take on your traditional nachos. Crispy tater tots topped with cheddar jack cheese, bacon bits, and drizzled with chive ranch sour cream.
Soups & Salads:
French Onion – House made with caramelized onions, croutons, and provolone gratin.
Cobb Wedge Salad – Iceberg lettuce wedge, grilled chicken, baby Heirloom tomatoes, crispy bacon, hard-boiled eggs, crumbled blue cheese, and Naan bread.
Creole Shrimp Salad – Blackened shrimp over iceberg lettuce, vegetable slaw, roasted corn and black beans, tomatoes, cucumbers, and pickled okra.
Sandwiches:
Buffalo Chicken – Chicken cutlet, buffalo sauce, cheddar, iceberg, ranch, and tomatoes on a toasted hoagie.
Reuben – Pastrami or turkey sliced thin and topped with thousand island dressing, sauerkraut, and Swiss cheese on grilled rye bread.
Cape Fear Melt – Hot ham, turkey, bacon, and slice tomatoes. Open faced on a grilled Naan bread and topped with seriously sharp white cheddar cheese.
 Forest Favorites:
Hog Nose Snapper – Fresh Hog Nose Snapper, blackened and served over roasted vegetable salsa. Topped with fresh tomato cilantro and avocado-pico de gallo.
Chicken Formaggio – Grilled, boneless chicken breast with sauteed spinach and mushrooms. Topped with parmesan and provolone cheese. Served over pasta and tomato sauce.
Steak Au Poivre – USDA Prime NY Strip loin, rubbed with roasted garlic and peppercorn crusted. Pan seared and topped with a brandy mushroom demi-glaze. Served over potato wedges and vegetable du jour.
Vegetable Enchiladas – Fresh vegetable mixture with tangy enchilada sauce and cheddar cheese. Baked and served with white rice and black beans.
Is your mouth watering yet? Keep in mind that this menu, especially the "Forest Favorites" section, is rotated occasionally to keep things fresh and delicious year-round. Chef Scott always has ideas for new specials and dishes that he feels hungry patrons will love, so be sure to keep up to date with the latest menus from The Forest. If you don't have the time to dine-in, you can also take your food to go. Monday take-out orders are from 11 am – 6:30 pm.  And for Tuesday – Saturday: Both take-out & dine-in from 11:00 am – 7:00 pm.