A Common Place for Good Times!
June 28, 2019
ISWebmaster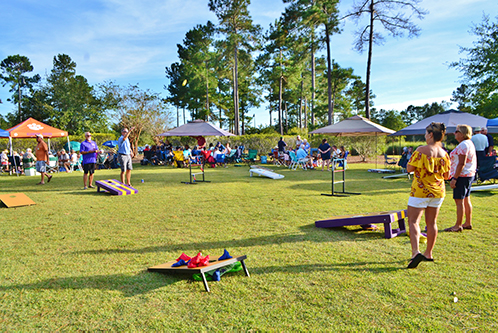 With summer here, it's the perfect time of year for getting together with friends and family. Brunswick Forest is the master-planned community that has your good times in mind, that's why the Community Commons is a great place to complement your social lifestyle.
Located directly in the heart of Brunswick Forest, right next to The Fitness and Wellness Center, the Community Commons helps to further emphasize Brunswick Forest's dedication to community. This facility helps to bring all the neighborhoods of the community together in one spot where a variety of events can be held. Birthday parties, cook outs, club meetings and more are perfect activities to enjoy at the Community Commons. The main building of the Community Commons is sheltered and offers rich luxuries like a cedar-sided meeting room, stone crafted fireplace and even a kitchen! The kitchen area is especially useful for holding cooking meetings and witnessing culinary demonstrations. Interior areas of the Community Commons are also surrounded by plenty of windows, allowing for an abundance of light and encapsulating views of natural beauty.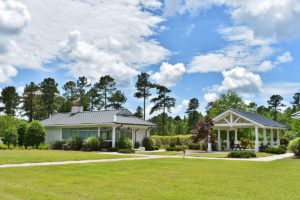 Visitors to the Community Commons will find plenty of lawn space to make use of. For those looking to enjoy a serene area to relax, there's a wooden boardwalk leading out to a roofed gazebo. The gazebo itself overlooks a peaceful pond, stocked to the brim with fish just waiting to be caught by anglers. An expansive front lawn offers a fine area to spread out a picnic blanket and relax in the sun or engage in any number of outdoor activities. There's even an area with picnic benches where you can sit and catch up with friends and neighbors.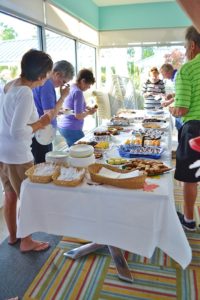 Thanks to the expansive biking and walking trails throughout the community, residents can easily reach the community commons both on wheels and on foot. Being right next to the Fitness and Wellness Center, the Community Commons is also a great place to meet with fellow residents during any of your active lifestyle routines. Be it enjoying the sunset with a glass of wine or talking with friends, the Community Commons further enables you to enjoy a relaxing Southern lifestyle, no matter the occasion.