2019 Cape Fear National Ladies' Golf Association (LGA)
February 5, 2019
ISWebmaster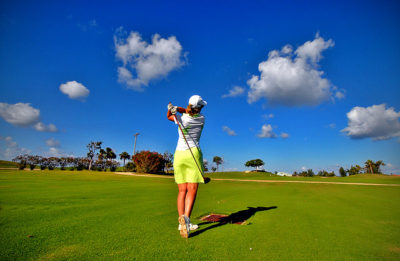 Golf is unique in that it attracts people both men and women of all ages. You don't have to be a professional to enjoy playing a few holes or spending some time on the course. Brunswick Forest is well known for championship golf at Cape Fear National, where challenge and beauty come together to form a world class experience. Kris Sako, current president of the Ladies Golf Association, explains why golfing at Cape Fear National has become a valued tradition.
The Ladies Golf Association of Cape Fear National was originally created by their first president Kris Talley in 2013. The original focus of the LGA was to create an outlet for a small group of ladies to play on Tuesdays. Over time, the group ended up growing larger than originally anticipated. "We had a meeting and it was decided that we had enough ladies. It was time to form the CFN LGA" Kris exclaimed.
When asked about the relationship between the LGA and Cape Fear National, Sako explained how the wonderful pro-staff at Cape Fear National organize the LGA tee times and game results. Whenever the LGA needs help organizing their events, the staff is on hand to assist. They even go to the extent of helping the LGA with specific golfing rules and ways to improve their organization.
Membership for the LGA at Cape Fear National consists mostly of retired women, but the club doesn't discriminate based on golfing ability or age. Women of all skill levels and ages are accepted! Residents of Brunswick Forest and nearby neighborhoods can join the LGA. Memberships will usually run an annual fee of $20, $15 for being a part of the ringer book and $5 for being a part of the hole in one club.
The LGA season runs from March until the end of October. Tee times are typically at 8:30am. The pro shop saves tee times for the LGA at 9:30am during the winter season.
For 2019, the LGA is looking at a full plate of fun group events! "We have an opening banquet this month in February and the open season kicks off with a nine-hole scramble," Kris declared. The LGA will also participate in a local charity event in August. This is the Hope Harbor tournament which concentrates of raising money for abused women and their children. LGA members can also look forward to competing with Magnolia Greens LGA in the annual, fall competition.
Kris reminisces about her most memorable moment with the LGA, stating that "This past fall, we played as a team in an event that we won. We only had the minimum number of players and frankly, we didn't think that we had a chance. But we ended up winning." She expressed that being a part of the LGA is simply a great experience because you get to meet other ladies who share a love of golf. These friendships often go well beyond playing golf on Tuesdays. These bonds alone will make the LGA truly worthwhile for any aspiring members!
If you're a lady who's a fan of living life one tee-shot at a time, then the Ladies Golf Association is for you. Brunswick Forest is happy to provide you with the best golfing experience around at Cape Fear National, so what are you waiting for? Join the LGA by contacting either Kris Sako at ksako@ec.rr.com or Connie Daughtry at cdaughtry1964@gmail.com.