WILMINGTON'S GARY SHELL CROSS-CITY TRAIL
February 16, 2016
Brunswick Forest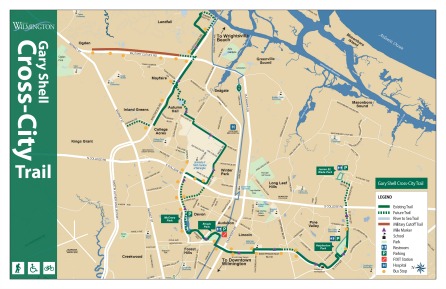 The Wilmington area has a lot offer new residents of Brunswick Forest including miles of beautiful beaches, a charming and historic downtown by the Cape Fear River, cultural opportunities, a state university with continuing education classes and plenty of recreational options afforded by an extensive Parks Department.
A MULTI-USE TRAIL
The Gary Shell Cross-City Trail is a 20-mile path intended for use by both pedestrians and bicyclists and is easily accessed from Brunswick Forest via car or WAVE Transit. The path is primarily off-road and connects many different destinations in the city including parks and commercial areas. The Trail traverses New Hanover County and, when fully complete, will run from the James E.L. Wade Park to the Intracoastal Waterway.
PART OF THE EAST COAST GREENWAY
The Gary Shell Cross-City Trail will make up part of the East Coast Greenway, a multi-use path that will span from Maine to Key West. Downtown Wilmington's popular Riverwalk is also part of the East Coast Greenway.
888.371.2434
www.BrunswickForest.com