meet valerie dejarld: resident, adventurer, and this quarter's hoa winner
September 13, 2016
Brunswick Forest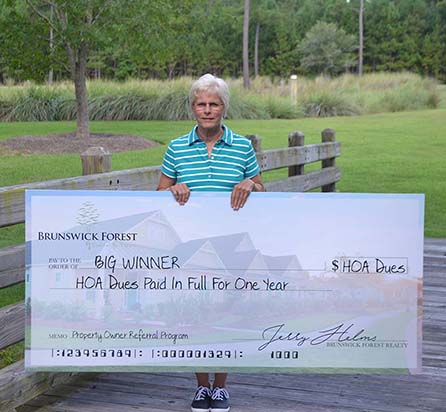 WHAT IT'S LIKE TO BE A RESIDENT IN BRUNSWICK FOREST
Brunswick Forest is happy to introduce Valerie DeJarld, this quarter's winner of the HOA dues for a year for referring her friends and family via the Property Owner Referral Program! Valerie moved into her home in Park Landing back in June from the DC Metro area. Some of the activities she loves to do in the community include walking, biking, and kayaking on Town Creek. She has four children and four grandchildren and one of the many things she enjoys about living in Brunswick Forest is that she is still close enough to visit her daughter and granddaughter back up in D.C.
EXPLORE: BOTH IN THE COMMUNITY AND OUTSIDE OF IT, AS WELL
One of the things that really drew Valerie to Brunswick Forest was location. Being 20 minutes to the beach, Brunswick Forest allows for close coastal adventures while remaining in a calm, retreat just outside the city of Wilmington. Yet, living close enough to the city allows residents, like Valerie, to enjoy the cultural opportunities available in Downtown Wilmington.
THERE ARE WONDERFUL BENEFITS TO REFERRING YOUR FRIENDS AND FAMILY
So how did Valerie become the winner of free HOA dues for a year?! Through our Property Owner Referral Program, Valerie had referred friends and family to join the community of Brunswick Forest. Not only did her sister move down to the community, but they even live across the street from each other in Park Landing! Whether your family is visiting for the holidays or even considering moving down themselves, share your love for Brunswick Forest and you just might be the next big winner!!
Visit us at brunswickforest.com or call us at 910.371.2434 today.