meet braxton fussell
February 22, 2016
Brunswick Forest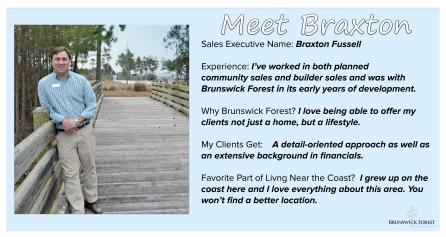 Meet Braxton Fussell, a familiar face who recently re-joined the Brunswick Forest Sales Team after taking a few years to work in builder sales.
WHY BRUNSWICK FOREST
Braxton was happy to return to work at Brunswick Forest for a number of reasons, first and foremost being that he enjoyed working for the community and missed being part of the award-winning team of sales experts. "I am really excited about all of the new home styles that Brunswick Forest has to offer," says Braxton. "I really enjoy working with my clients and being able to help them find not just a home, but a lifestyle."
A DETAIL-ORIENTED APPROACH
Braxton prides himself on his detail-oriented, but easy-going approach to working with clients. He enjoys listening to what his clients are looking for and finding exactly the right home to suit their needs. He also has an extensive background in the financial side of home purchasing and has a lot of experience working with developers.
APPRECIATION FOR THE COASTAL LIFESTYLE
Braxton grew up outside of Wilmington, North Carolina and spent his summers as a child at his family's home in Topsail Beach. Here, he developed his love for the water and the coastal way of life in Southeastern North Carolina. "The lifestyle at Brunswick Forest extends further than the neighborhood," says Braxton. Ten months out of the year you can be outside doing activities, and the area has some of the best diving, fishing and boating in the country. This location is hard to beat."
888.371.2434
www.BrunswickForest.com