congratulations clark & shelley wheeler!
April 24, 2017
Katie McAlick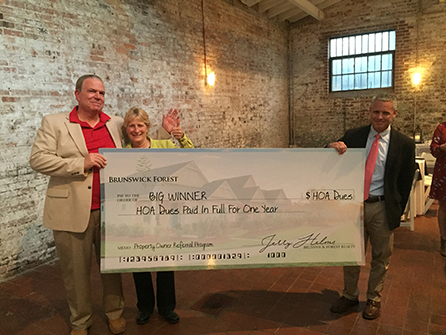 New Jersey residents Clark & Shelley Wheeler are the recipients of this quarter's HOA dues paid in full for a year! As they prepare to move into their Kent home in Park Landing, the Wheelers are living on-site, enjoying activities like biking, boating, and living the Brunswick Forest lifestyle. They love being able to bike to The Villages, explore the local area, and all that Brunswick Forest has to offer!
The Right Fit
After working with one of our Brunswick Forest Realtors,  the Wheelers are ecstatic to move into their new home and continue their amenity-rich lifestyle. Relocating can be daunting, but by attending an Ideal Living Show in New Jersey, Clark and Shelley were able to get a taste of Brunswick Forest right from their backyard! From there, the Wheeler's enjoyed multiple visits to our property and even referred Shelley's sister to the Brunswick Forest community. Shelley's sister, Kim, now owns a home in our Evangeline neighborhood.
Wonderful Benefits Await When You Refer Friends and Family
When you refer friends and family to Brunswick Forest through our Property Owner Referral Program, you have the opportunity to receive HOA dues paid in full for a year! With new friends here in Brunswick Forest and family right in the community, the Wheeler's are loving their new lifestyle! Whether you have family visiting for the holidays or friends who are considering moving to Brunswick Forest, share your love for the community and you might be our next big HOA winner!
866-831-8289